Space4Youth: Young voices in the space sector
Space diplomacy: my experience as Deputy Space Attaché at the French Embassy in Russia
by Maeve Daly
Since November 2019, I have been working as Deputy Space Attaché at the French Embassy in Moscow. In June 2018, I graduated from the University of Glasgow, Scotland, with a Joint Honours degree in History and Russian, specialising in Russian foreign policy and West-Russia relations. I have always had a keen personal interest in space issues, as my father and brother both work in aerospace, but I had no prior work experience in the sector, nor had I researched the subject before. Until this opportunity presented itself, I had never considered it as a career option.
At the Embassy, I perform a dual role: I serve both the French Ministry of Foreign Affairs and the French space agency, the Centre National d'Études Spatiales (CNES).
On one hand, I act as Deputy Space Attaché to the French Ambassador to Russia, advising on policy orientation and delivering analysis to the Embassy's chancery, assisting in agreement negotiations, and organising high-level meetings pertaining to space issues between French and Russian officials. For example, I recently coordinated the French Ambassador to Russia's meeting with the Heads of the French and Russian space agencies, held in Moscow on February 14 th.
On the other hand, I work as Deputy Representative of the CNES in Russia. This mainly entails acting as the French space agency's point of contact in Russia, ensuring smooth communication and facilitating exchanges between French and Russian space actors, be they state or private, and helping French space companies established in Russia overcome the bureaucratic difficulties they might face.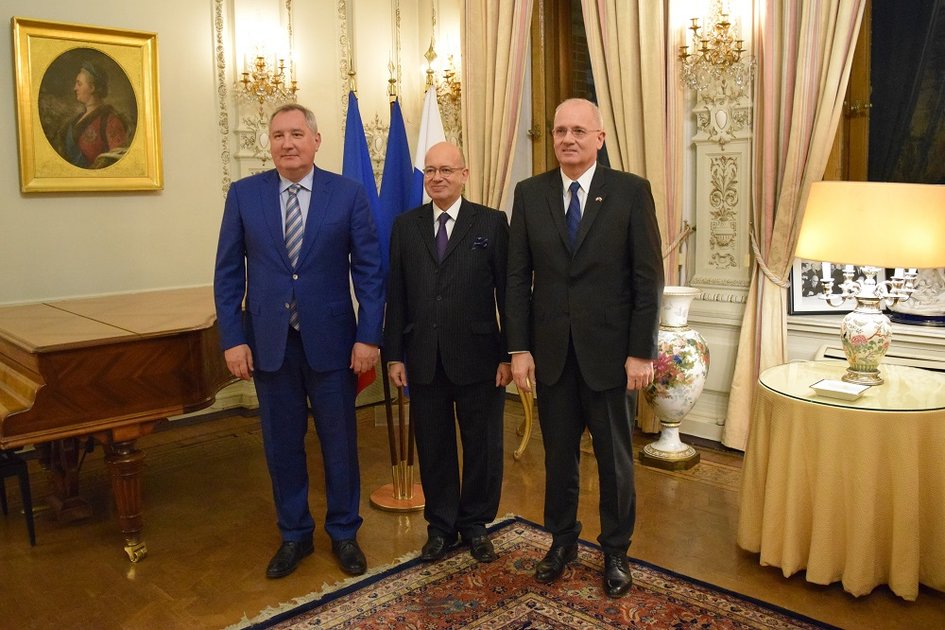 Meeting of the French Ambassador to Russia, His Excellency Pierre Lévy, and the President of the CNES, Jean-Yves Le Gall, with the General Director of Roscosmos, Dmitry Rogozin, at the French Embassy in Moscow on February 14 th, 2020.
Working on both levels of cooperation - technical and diplomatic - is allowing me to develop a wide range of skills. Since starting at the Embassy, I have acquired a rudimentary understanding of the functional aspects of rockets and launches, and gained deep knowledge of the internal mechanisms of the Russian space sector, all whilst reinforcing my analytical and diplomatic competencies. I have also discerned the tools states use to defend national space interests and the ways in which space agencies interact with each other.
One of the most important takeaways so far has been the realisation that every substantial space mission, experiment and programme depends on international cooperation to succeed. As such, international cooperation is a fundamental engine for space developments. The most obvious example of this is the International Space Station (ISS), which involves the participation of 15 states and has hosted cosmonauts and astronauts from 19 different countries. More recent examples include NASA's Lunar Orbital Platform-Gateway Project and ExoMars, the joint European Space Agency (ESA)-Roscosmos unmanned mission to Mars.
One might ask, why is it that space exploration is contingent upon international cooperation? First, collaboration allows for space actors to complement their domains of expertise. International collaboration through information, knowledge and skills sharing ensures there will be all the necessary elements required for a successful mission. Second, space endeavours require colossal budgets that can be more easily attained when costs are shared. Third, cooperation helps guarantee that relevant international laws on outer space activities are adhered to.
I was interested in this position because, no matter how West-Russia relations fluctuate, space seems to be one of the few spheres that remains unaffected by the current state of international relations and continues to flourish regardless. Furthermore, perpetuating space relations maintains an essential channel of dialogue between countries, allowing for ongoing communication, which can ultimately provide a buffer to tense relations. In that sense, space cooperation can contribute to keeping a degree of normality in international relations, no matter how national interests clash at given times. As a member of the Committee on the Peaceful Uses of Outer Space (COPUOS), of which UNOOSA is Secretariat, France is actively engaged in ensuring space remains a platform for the promotion of peace.
Space cooperation is not only limited to intergovernmental interactions, as many private and university actors have joined the space landscape. As such, building bridges between established space actors and other entities is increasingly necessary to cultivate space relations. In Russia, we are currently witnessing a recent government willingness to engage with private actors, such as start-ups. UNOOSA, too, is partnering with the private sector. Through its Access to Space 4 All Initiative, it cooperates with companies such as Airbus Sierra Nevada Corporation and Avio to expand access to space for all humanity, particularly for developing countries, and increase the contribution of space to sustainable development.
Working in the space sector in Russia is particularly compelling because of its rich space history. As a cradle of space exploration and a major space power, Russia has a lot to offer to its international partners in terms of infrastructure, knowledge and experience. As states are gradually articulating programmes aimed at future manned missions to the Moon and Mars, Russia's know-how in training and launches will prove a key asset. Russia hosts the famous Yuri Gagarin Cosmonaut Training Centre (more widely known as Star City) and manages the Baikonur space port, which it rents from Kazakhstan, making it one of only three countries with current manned flight capabilities, the other two being the United States (reactivated on 30 May 2020 after suspension of the Space Shuttle programme in 2011) and China.
I would recommend any young professional wanting to pursue a career in the field of international relations and diplomacy to consider joining the space sector. As opposed to other fields of cooperation, the work put towards enhancing space partnerships gives rise toconcrete short and long-term results. Every year brings its new share of launches, agreements and international programmes, which make it easy to see the fruits of your labour unfold, notice advancement and observe achievements. You feel you are not only working for the benefit of scientific progress, but also contributing to improving relations between states on Earth!