United Nations Expert Meeting on the International Space Station Benefits for Humanity
11-12 June 2012, Vienna, Austria
Co-organized by
Canadian Space Agency (CSA), European Space Agency (ESA), Japan Aerospace Exploration Agency (JAXA), National Aeronautics and Space Administration (NASA), Russian Federal Space Agency (ROSCOSMOS)

The United Nations Expert Meeting on the International Space Station Benefits for Humanity was held in Vienna, Austria, from 11 to 12 June 2012 in Vienna, Austria. As the second meeting of its kind following the United Nations/Malaysia Expert Meeting on Human Space Technology held in 2011, the Expert Meeting focused on the extension of the applications of human space technology, in particular, on enabling benefits of research aboard the International Space Station (ISS), its technology development and education to reach more people and countries. Organized by the Office for Outer Space Affairs of the Secretariat in cooperation with the ISS Partner agencies, namely, the Canadian Space Agency (CSA), the European Space Agency (ESA), the Japan Aerospace Exploration Agency (JAXA), the National Aeronautics and Space Administration (NASA), and the Russian Federal Space Agency (Roscosmos), the Meeting aimed at bringing experts from around the world and representatives from relevant United Nations organizations as well as from ISS Partners together to discuss ways to realize the potential of the ISS for the benefit of humanity, specifically, in the areas of Earth observation and disaster response, global health, and educational activities.
The Meeting pursued the following objectives:
To provide opportunities for the ISS partners and United Nations agencies to meet and discuss how to extend the benefits of the ISS for humanity focusing on the areas of Earth observation and disaster response, health and education;
To leverage the expertise of United Nations agencies to identify specific opportunities to collaborate with the ISS partners;
To leverage network and activities of United Nations agencies to reach Member States with the benefits of human space technology.
Representatives from the following ISS partner agencies and United Nations entities participated in the meeting: CSA, ESA, JAXA, NASA, the World Meteorological Organization (WMO), the United Nations Environment Programme (UNEP), the World Health Organization (WHO), the United Nations Educational, Scientific and Cultural Organization (UNESCO), and United Nations Office for Outer Space Affairs. The Meeting was also attended by the experts in the above mentioned humanitarian areas from the following countries: Albania, Austria, Bangladesh, China, Czech Republic, Equador, Germany, Ghana, the Holy See, Hungary, Italy, Jordan, Mexico, the Netherlands, Nigeria, Pakistan, Saudi Arabia and Thailand.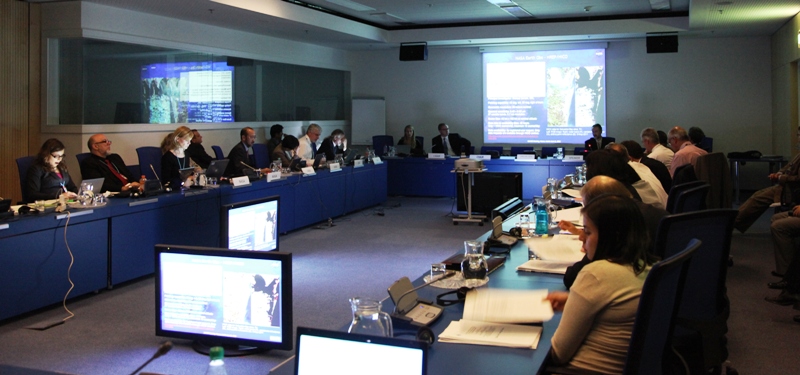 Final Programme, Presentations and Report

Information Note and Application Form
Online Application (The application period has ended)
Reference materials
External Links of Participating Entities and Activities Presented at the Meeting