Space Weather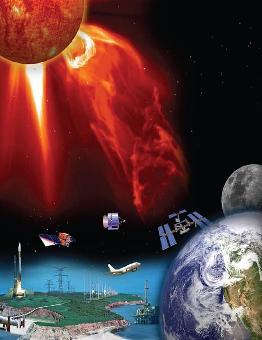 As society becomes increasingly dependent on space-based systems, it is vital to understand how space weather, caused by solar variability, could affect, among other things, space systems and human space flight, electric power transmission, high-frequency radiocommunications, global navigation satellite system (GNSS) signals, as well as the well-being of passengers in high altitude aircraft.
Severe magnetic storms resulting from coronal mass ejections are causes of failures of many geostationary orbit communication satellites, radio blackouts and power outages on Earth. The ability to predict space weather accurately could assist in preventing or minimizing impacts of severe magnetic storms on space-based services and systems and on ground power systems.
International cooperation in research and development activities in the field of solar-terrestrial physics is important to all nations, in particular developing nations, owing to the high cost of such activities and the increasing involvement of all nations in the use of outer space for peaceful purposes.
Boston College, Chestnut Hill, Massachusetts, United States of America, 31 July - 4 August 2017
This workshop marks the tenth anniversary of the International Heliophysical Year, which led to the genesis of the International Space Weather Initiative (ISWI). The main focus will be on recent advances made in scientific research by utilizing ISWI instrument data in conjunction with space mission data in adding significant new knowledge on space weather phenomena near Earth and interplanetary space. For details see the Workshop webpage.
For more documents, search the Documents Database.