Access to Space for All - Education Component -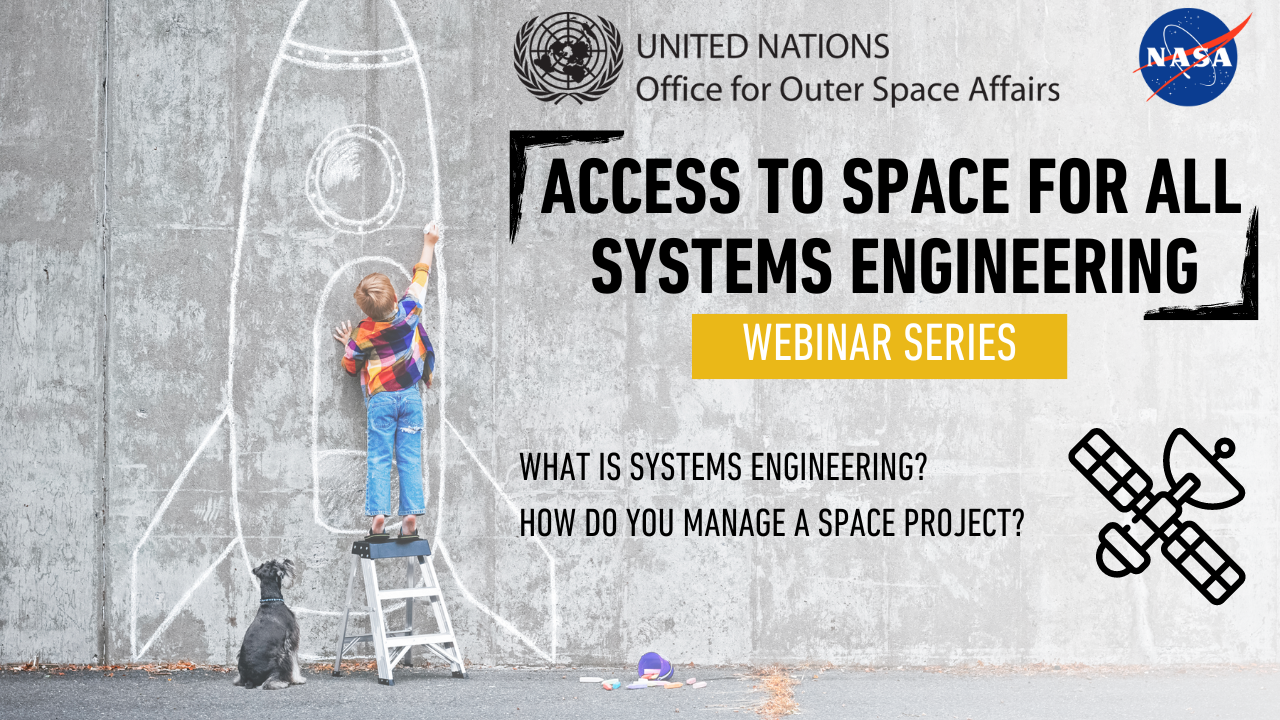 Introduction
To support future potential Access to Space for All applicants and to provide free and accessible educational content to all, the United Nations Office for Outer Space Affairs (UNOOSA) in collaboration with the National Aeronautics and Space Administration (NASA) is organizing a webinar series on Systems Engineering. NASA helped pioneer Systems Engineering, which is a " robust approach to the design, creation, and operation of systems. In simple terms, the approach consists of identification of system goals, creation of alternative system design concepts, performance of design trades, selection and implementation of the best design, verification that the design is properly built and integrated, and post-implementation assessment of how well the system meets (or met) the goals." (NASA Systems Engineering Handbook, 1995) Basic systems engineering and project management skills are fundamental for planning, developing, and implementing an experiment or a space project, and are critical for those engaged in space activities, whether as a designer, builder, or manager of space infrastructure and services. The presenters will be from NASA's Small Spacecraft Systems Virtual Institute (S3VI), who have abundant resources and experience in systems engineering topics, especially in small satellite systems.
The four-part webinar series will take place between November 2023 and January 2024. Each webinar will last one hour and consist of presentations and question and answer (Q&A) sessions. Only a limited number of applicants will be invited to join the live interactive sessions, where the participants will have the opportunity to directly engage with NASA experts. Given the relatively short duration of the course, NASA personnel will provide resources for reading materials prior to each webinar so participants can prepare for each session and maximize their experience. Two weeks after each webinar, the presentations and recordings will become accessible to everyone on this website.
Call for registration for Live Sessions: CLOSED
Working Language: English
Eligibility:
Commitment to attend all four webinars.
Current university enrollment or a degree in a space-related discipline.
Selection:
Applicants will be chosen based on relevant professional or academic experience and information about how they intend to use the information and knowledge obtained.
Participants from government organisations, research institutes, universities, and other public and not-for-profit organisations of developing economies and economies in transition that are Member States of the United Nations will have priority. The country classification list of developing economies and economies in transition indicated in the joint report, World Economic and Situation Prospects published by United Nations Department of Economic and Social Affairs and other related organisations will be used to assess.
Registration: Please click here to register.
Deadline for Registration: 20 September 2023
Programme:
All sessions are from 5pm CET (UTC+1)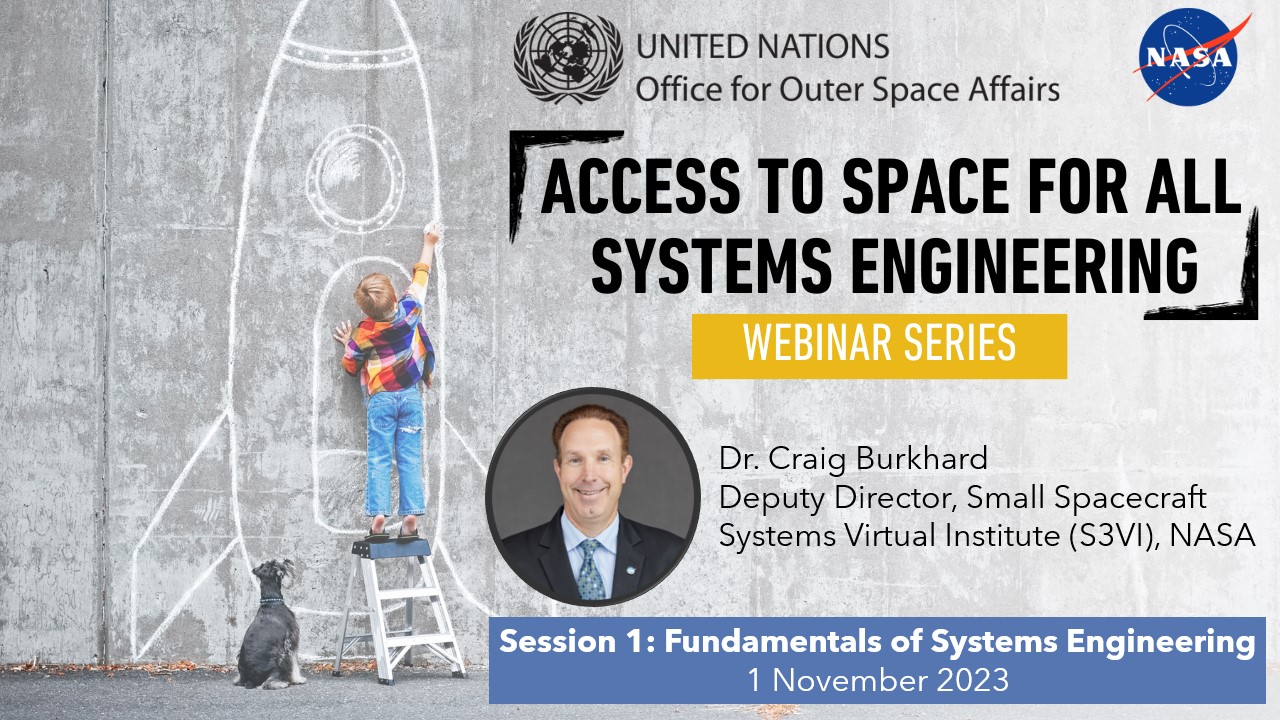 Wednesday 1 November 2023 Fundamentals of Systems Engineering
Click here for the  presentation and recording (you will be forwarded to the NASA YouTube channel)
This webinar offers an overview of the fundamentals of systems engineering and project management as they relate to small spacecraft projects. This overview includes: What is Systems Engineering and what does a systems engineer do? What are the elements of managing a small spacecraft project? Why does NASA use systems engineering? What are the roles and responsibilities of a systems engineer? What are the elements of a project's life cycle phases?
Wednesday 29 November 2023
Requirements and System Design
This webinar will cover discussions on requirements and systems design aspects. How do you define requirements for a small spacecraft mission? Why are requirements important to space missions? How trade studies are used to determine parts selection and why is it important?
Wednesday 24 January 2024
System Assembly, Integration and Test, and Spacecraft Handling
This webinar will cover Systems Assembly, Integration and Test, and Spacecraft Handling as they relate to a small spacecraft project. What are the elements of system assembly, Integration and Test, and Spacecraft Handling? What are the various steps involved for each? Why is it important to a space mission?
Wednesday 28 Feburary 2024
Introduction to the NASA Small Spacecraft Systems Virtual Institute (S3VI)
This webinar will focus on discussions and demonstrations of the S3VI tools; other webinar opportunities; and databases that could include the Small Satellite Reliability Initiative (SSRI) Knowledge Base Tool, Community of Practice (CoP) Webinar Series, Mission Design Tools, Small Spacecraft Information Search, and the State-of-the-Art (SoA) Small Spacecraft Report. This presentation will provide attendees with information and knowledge of available resources and where to find them to support the design and development of their own small satellite missions.