Access to Space for All Latest Information
OPPORTUNITY
UNOOSA and NASA opened registration for the Systems Engineering webinar series
, 
read more
(7 Sept 2023)
EVENT
Join the KiboCUBE Regulatory Webinar 11 September 1pm CEST,
read more
(18 August 2023)
OPPORTUNITY
UNOOSA and JAXA opened the 8th round of
KiboCUBE
on 2 June,
read more
(2 June 2023)
OPPORTUNITY
UNOOSA, DLR and ZARM opened the 9th round of
DropTES
on 31 May,
read more
(31 May 2023)
OPPORTUNITY
UNOOSA and ESA opened the 3rd round of
HyperGES
on 31 May,
read more
(31 May 2023)
EVENT
1st Access to Space for All Expert Meeting was held on 15-17 May 2023 online,
read more
(17 May 2023)
NEWS
UNOOSA and ESA announced the 2nd round HyperGES awardees on 8 May,
watch here
(8 May 2023)
Hypergravity/Microgravity Track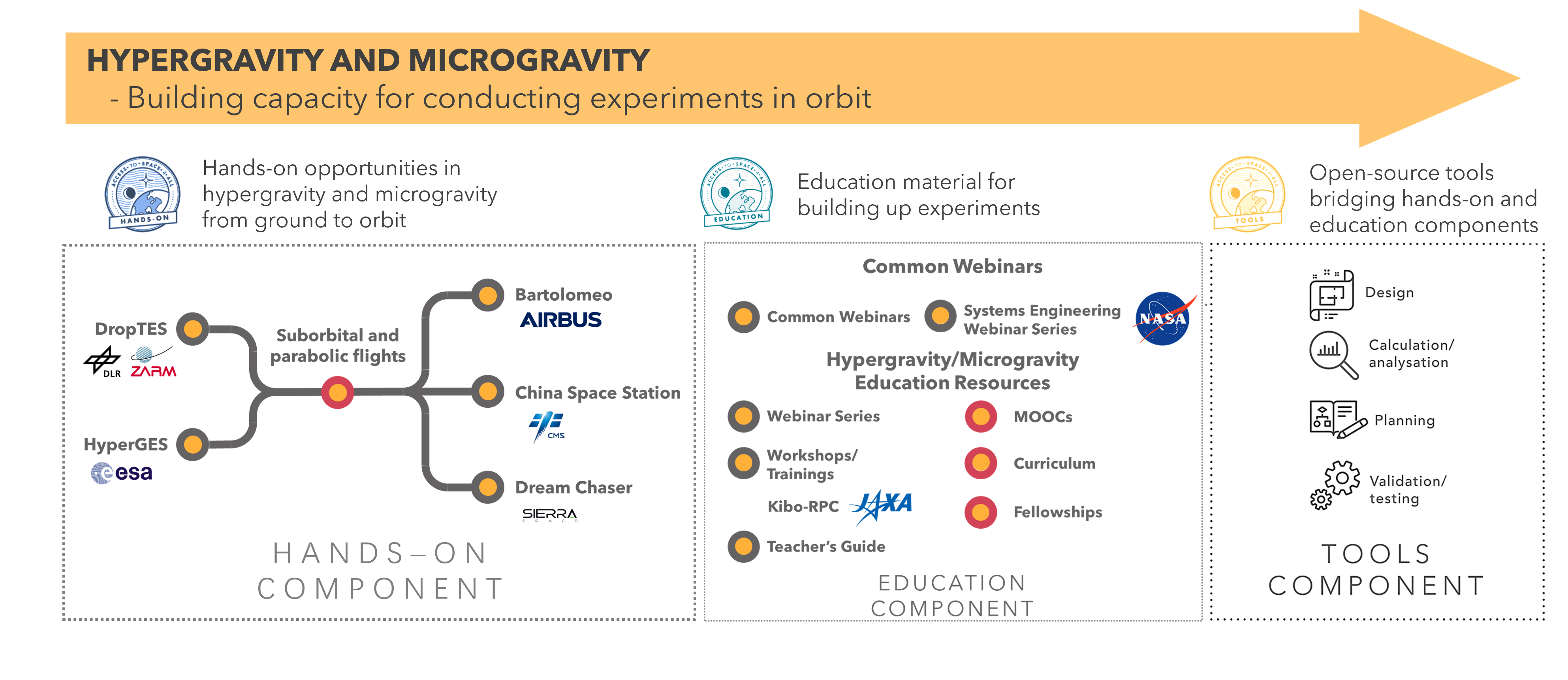 The Hypergravity/Microgravity Track is designed with the end goal of developing the capacity of running various space experiments onboard the orbital vehicles or space stations.
Satellite Development Track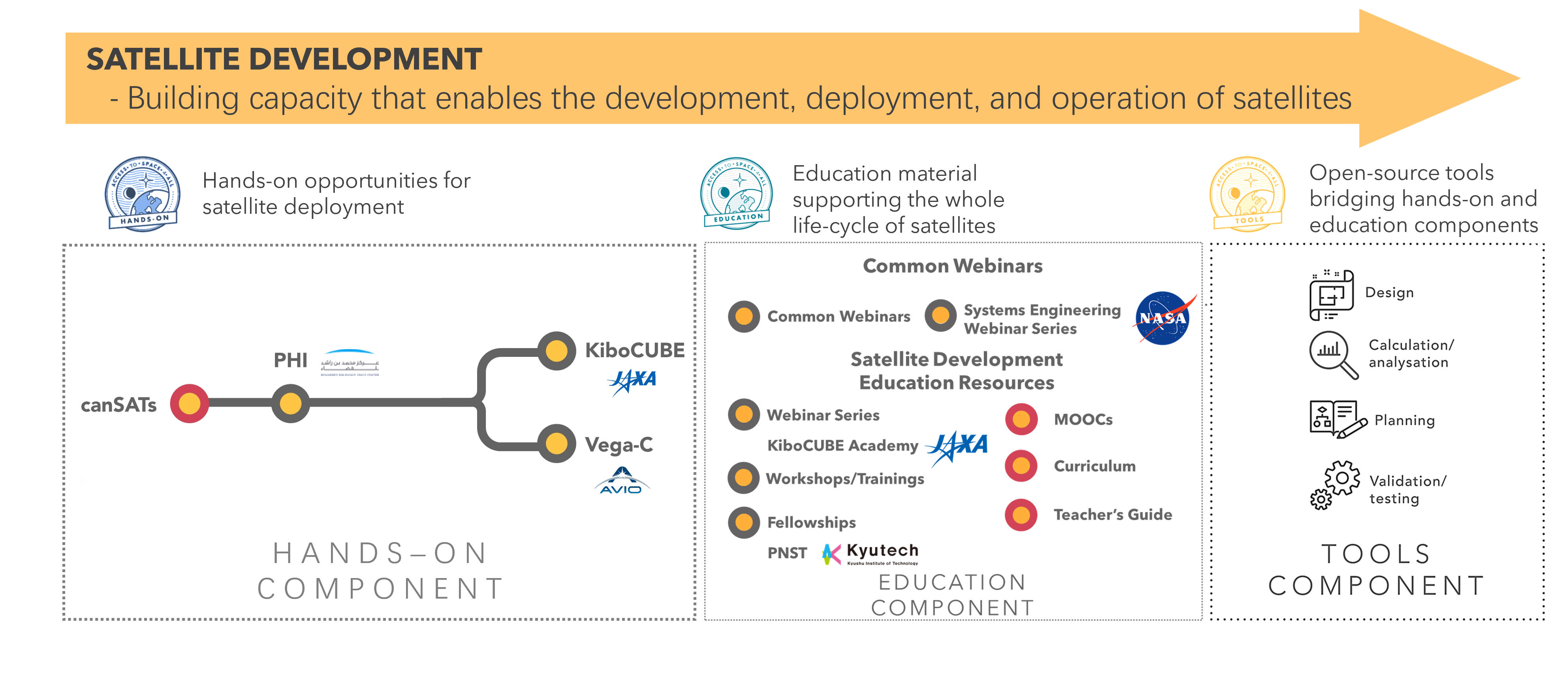 The Satellite Development Track is aiming at building the capacity to design, implement, verify, operate and decommission a satellite in a responsible and sustainable manner.
Space Exploration Track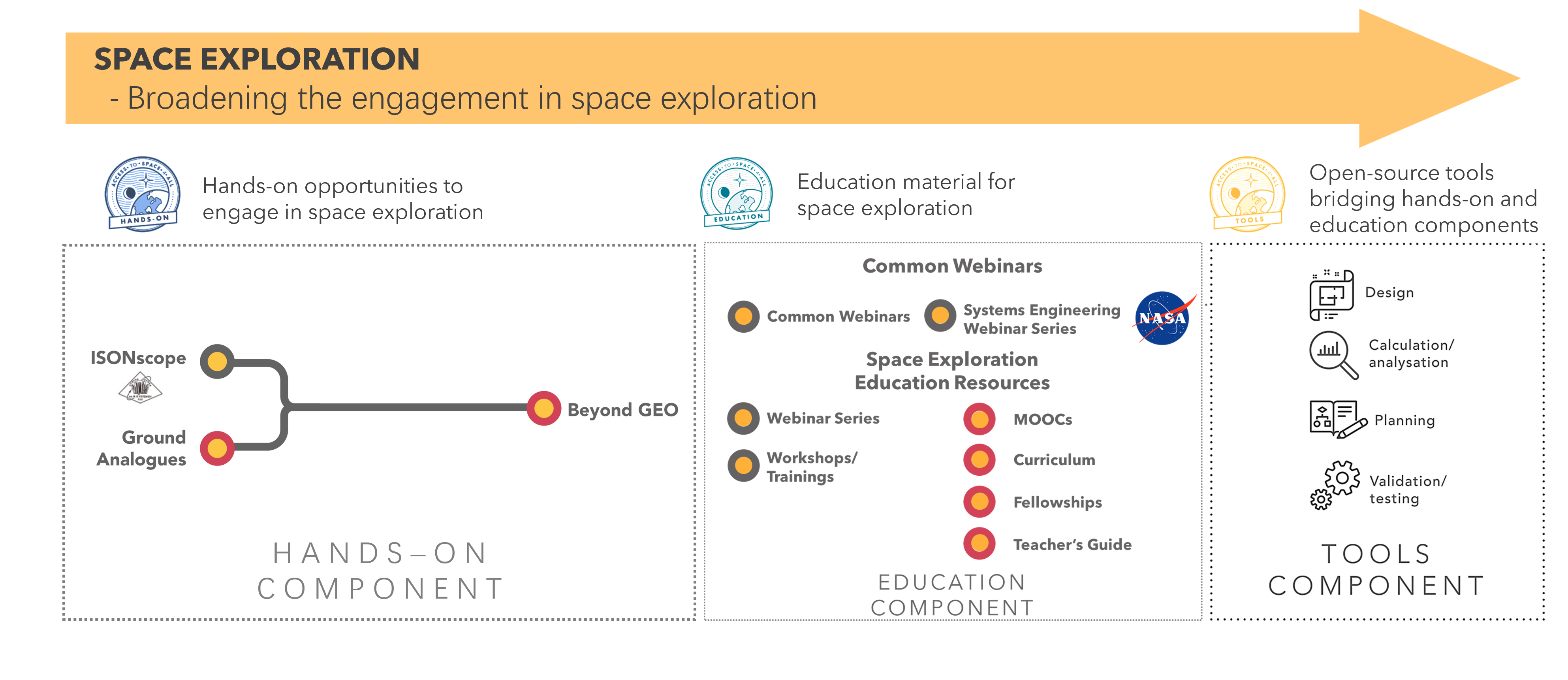 The Space Exploration Track is designed to cover aspects related to space exploration beyond the geostationary orbit and provides opportunities, as building blocks, to that goal.
Workshops and Expert Meetings

Through the various workshops, conferences, and meetings, UNOOSA and its partners provide the stakeholders with a forum for discussion on the selected theme and networking for partnerships and other opportunities. All presentations from past workshops are accessible, please see the dedicated websites of each workshop below.

Partnerships

Partnerships are a distinctive feature of the Initiative. Access to Space for All is only possible thanks to partnerships with various public and private actors, who are contributing to the initiative in various ways. New partnerships and contributions are possible and encouraged.
read more
For Member States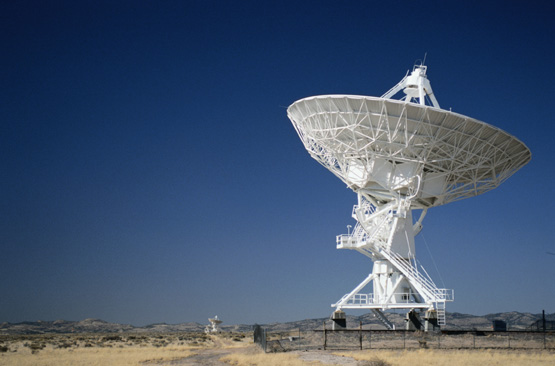 Space technologies, data and applications are key enablers for development, in the same way access to internet is an enabler. The Access to Space for All initiative enables communities from all over the world to use and benefit from space technologies and applications thanks to the cooperation among established space actors, the United Nations and non or emerging space entities.
read more
Contribution to the SDGs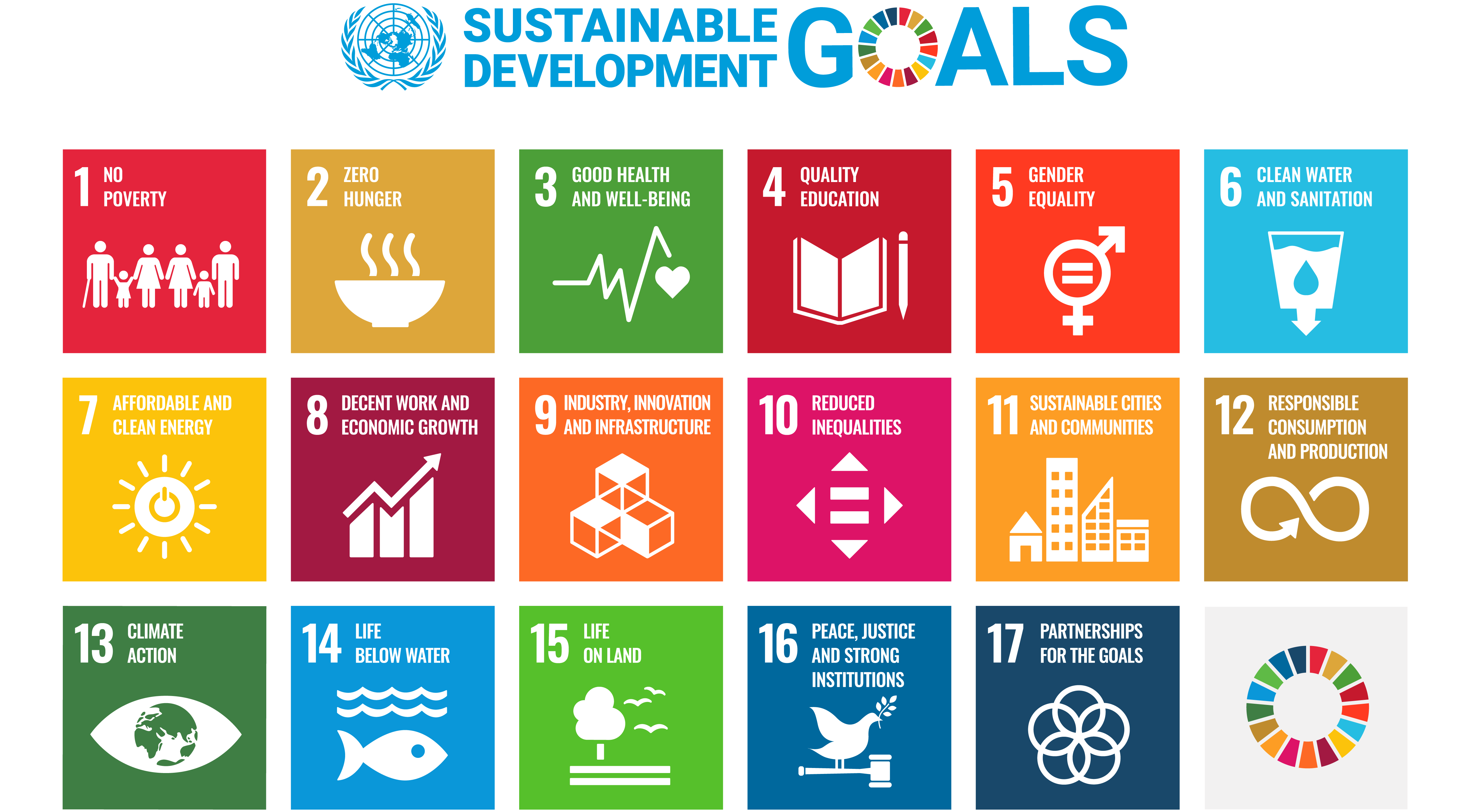 Access to Space for All is key in raising awareness about what space technology can do for the Sustainable Development Goals. Each application for an Access to Space for All hands-on opportunity requests the applicants to provide information on how their activity will support the Sustainable Development Goals. To date, UNOOSA has received applications that spanned over the 17 Sustainable Development Goals. Examples of how Access to Space for All supports the Sustainable Development Goals are:
SDG 4 "Quality Education": Access to Space for All provides educational resources supporting the hands-on component.
SDG 8 "Decent Work and Economic Growth": Access to Space for All builds capacity for individuals to access jobs in the space industry.
SDG 9 "Industry, Innovation and Infrastructure": Thanks to some of the hands-on opportunities of Access to Space for All, institutions create facilities that remain available once the opportunity has been completed.
However, the contribution of the initiative goes beyond those three SDGs. Access to Space for All initiative for Sustainability: Interview Series is a series of interviews of the partners and the awardees in the initiative, where they explain how their projects are tackling different SDGs.
Access to Space for All Awardees

Through the various programmes under the initiative, UNOOSA has awarded opportunities to 30 awardees from all regions. The awardees conduct various activities, not only for the development of science and technology, but also outreach, education, and other impactful actions. Learn more about the teams and their space/related activities.
Access to Space for All Brochure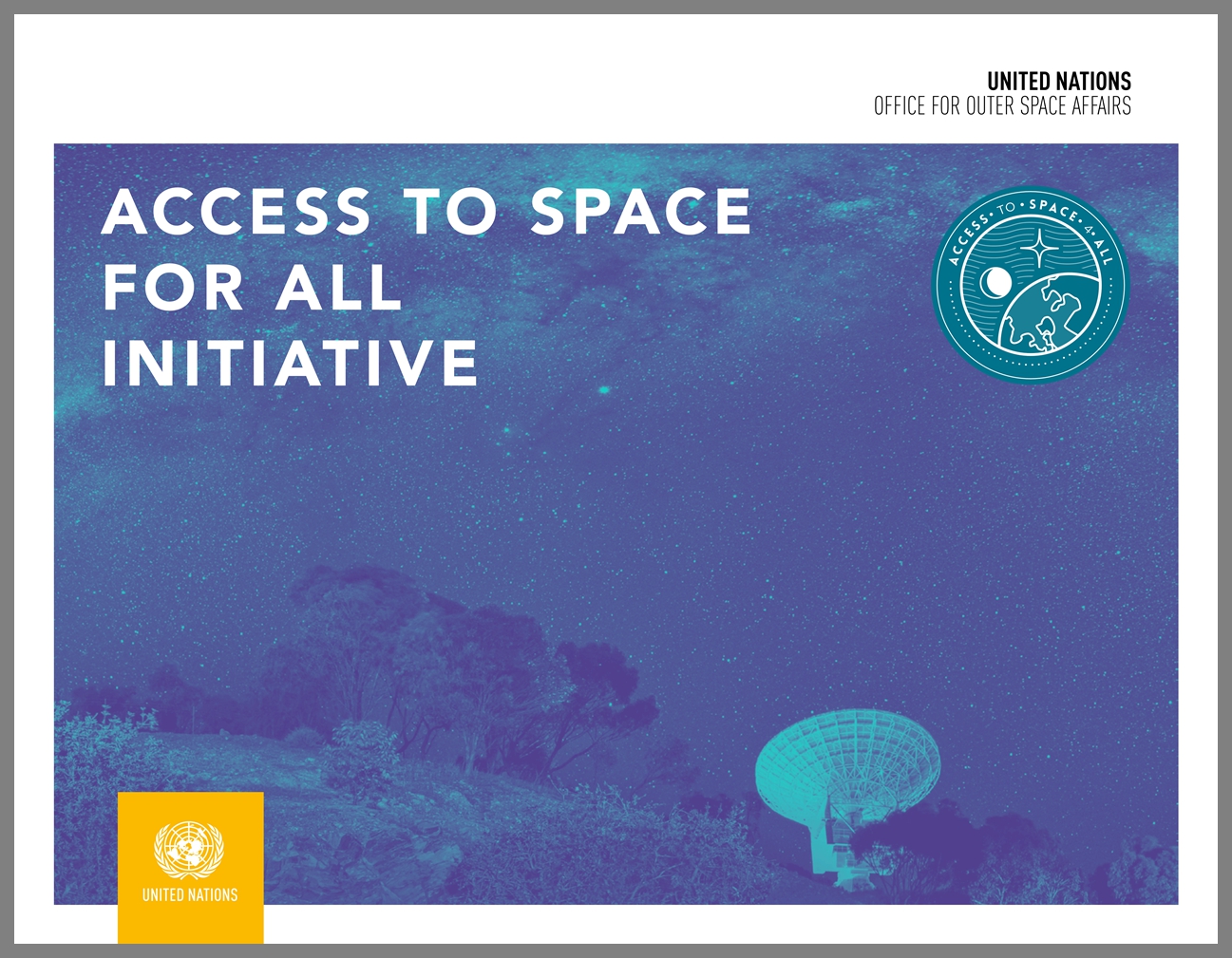 The brochure was published in June 2022 and brings an overview of the initiative and each opportunity, along with messages from our partners, and the success stories of the awardees. Download and read to learn more about the initiative in detail.