UN/AUSTRIA SYMPOSIUM
"SPACE APPLICATIONS FOR FOOD SYSTEMS"
7-9 September 2021
Online event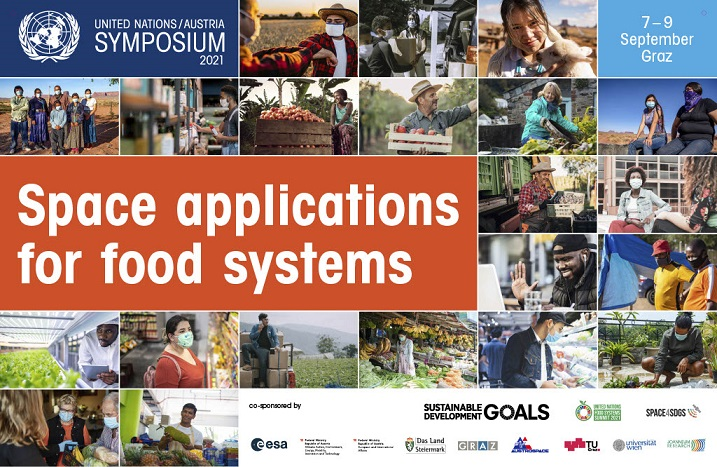 Download the final report here
Registration closed on 1 September 2021
Information on post-symposium capacity-building activity "UNOOSA-ESA-ISRO-NASA Earth Observation trainings for agriculture" available here.

Theme

The 2021 UN/Austria Symposium "Space Applications for Food Systems" will take place online from 7 to 9 September. This year's key topic is how space technologies support food systems and thus contribute to activities around the UN Food Systems Summit convened by the UN Secretary General. This Summit is part of the Decade of Action to achieve the 17 Sustainable Development Goals (SDGs) by 2030, each of which depends to some degree on healthier, more sustainable and equitable food systems.
"Transforming food systems is crucial for delivering all the Sustainable Development Goals."
António GUTERRES, UN Secretary-General

The term "food systems" refers to the activities involved in producing, processing, transporting and consuming food. The Food Systems Summit will address the following five action areas:
1. ensure access to safe and nutritious food for all
2. shift to sustainable consumption patterns
3. boost nature-positive production systems at scale to globally meet the needs while operating within planetary boundaries
4. advance equitable livelihoods
5. building resilience to vulnerabilities, shocks and stresses
The Summit will raise awareness that we all need to work together to change the way the world produces, consumes and thinks about food. The Summit will bring together key players from science, business, policy, healthcare and academia, as well as farmers, indigenous people, youth organizations, consumer groups, environmental activists, and other key stakeholders. Independent Dialogues formally connect into the Summit process through an official feedback mechanism, proposing recommendations to achieve sustainable food systems.
The 2021 UN/Austria Symposium "Space Applications for Food Systems" will include one of these Independent Dialogues.
Space applications are key tools for a sustainable agriculture and for food security including production, processing and transport chains. Earth observation data and meteorology are essential inputs into analyses and decision-making processes that are critical to promoting food and water security and resilience to crisis. Earth observation notably provides global, frequent, and detailed information about climate, soil, crops, water and land use; the data allows for a better understanding of the conditions for food production with evidence-based assessments. Other space technologies and applications also contribute significantly to global efforts to improve food systems worldwide. For example, farmers use satellite-based geolocation for precision agriculture, to optimise spraying of fertilisers on fields or to track assets such as equipment, livestock and products. Satellite communications make it possible to link data from food producers in remote areas to distribution centres and consumers; it also enables communities to resume activities after a natural disaster impacted other communication systems.
The event aims to bring together academia, scientists, entrepreneurs and many others to discuss and demonstrate how space data and applications support food systems. Users of space applications will present their experience and experts will discuss the role of space data and applications within the food value chain. Several different presentation formats will be used, showing best practices and demonstrations of solutions and services available, notably for developing countries.
Specific policy discussions will enable exchange of experience and know-how on integration of space applications and tools into the domain of agriculture and food security. The overarching objective of the Symposium is to offer users an opportunity to explore tools, policies, and approaches that could be adopted in their respective regional, national or local context.
Background
The UN/Austria Symposium has taken place in Graz, Austria, since 1994. It is an activity of the Programme of Space Applications of the United Nations Office for Outer Space Affairs. Since the first Symposium entitled "Enhancing Social, Economic and Environmental Security through Space Technology", more than 2,800 participants have attended the events. They addressed a variety of themes, ranging from security to youth, as well as the use of space for sustainable development, space accessibility, and international cooperation. The last edition focused on Climate Action.
The Symposia series has provided a forum for discussion between the different stakeholder groups of the wider space community, including the diplomatic community, the private sector and academia, as well as UN entities. The main purpose of the Symposia remains to enable discussions on the use of space tools and applications, with an inter-disciplinary viewpoint, addressing technology development and policymaking.
Objectives
The Symposium has the following objectives:
To promote the exchange of best practices in the use of space applications for specific activities that are integral to food systems.
To share experience and explore what services are available and how they can be used to support policies according to national priorities.
To discuss how to comply with regulations related to food systems with the use of space technologies and applications.
To present available toolboxes that have already been implemented through case studies or pilot projects, with the aim of encouraging the adoption of tested tools and approaches.
To discuss the role of UNOOSA in implementing capacity-building activities, especially in developing countries.
To raise awareness of relevant space-related activities, services and cooperation programmes among different user groups, in particular government officials, the diplomatic community, UN and international agencies as well as NGOs.
To demonstrate how initiatives based on space applications have been successfully developed and how they are being used in different countries, with a view to reporting best practices to the UN Food Systems Summit.
Programme
The programme includes
Keynote presentations: given by invited speakers;
Sessions: presentations from successive speakers, followed by short questions and answers sessions with the audience;
Panels: speakers give a very short introductory statement or presentation, followed by a moderated discussion among speakers and a question and answers session with the audience;
Pitches: very short presentations in which specific projects or initiatives are introduced, as in an "elevator pitch".
In addition to the above, the organisers are planning to propose interactive ways for discussions online among participants during the Symposium, notably to find common interest and discuss possible partnerships.
The symposium will focus on how space data and applications can contribute to sustainable food systems with the following topics:
Land use, waterways and ocean management in view of nature-positive food production
Optimisation of food transport and traceability
Crops and animals' health, and prevention of epidemics
Resilience of agriculture and aquaculture to vulnerabilities, shocks and stresses
Disaster management and emergency response directed at agriculture recovery
The role of space applications in agriculture policies
Presentation of concrete case studies, pilot projects and lessons learnt are encouraged. The outcome of this symposium will be communicated in the form of recommendations to the Food System Summit.
Day 1 - Tuesday, 7 September 2021
Morning session
Central European Summer Time (CEST)
 9:50
 Webex connection opens  
 10:00
 Introduction  
 10:05
 Keynote presentation
 
 
Simonetta Di Pippo
UNOOSA
 10:20
 Welcome ceremony   
       
 Moderator
Otto Koudelka
Graz University of Technology
 
Heinz Mayer
Joanneum Research
Max Kowatsch
Austrospace
Stephan Mayer 
FFG
Margit Mischkulnig
Federal Ministry Climate Action, Environment, Energy, Mobility, Innovation and Technology (BMK), Austria
Siegfried Nagl
City of Graz
Thomas Hollensteiner
Permanent Mission of Austria to the United Nations
 10:55
 Keynote presentation
 
 
 
ESA and European space in support of food security (MP4 video, 1.8 GB)
Josef Aschbacher 
European Space Agency
 11:10
 Break (20 minutes)  
      11:30  
 Session 1: Space-based solutions for food systems on Earth  
Space technologies and space applications are already being used extensively in Food Systems, as ways to improve existing production or transport of food. The session will present well-established solutions and how new stakeholders could benefit from their added value.
      
Chair
Luc St-Pierre 
UNOOSA
Resource optimisation by homogenisation of agricultural fields
Gordana Duraš
Joanneum Research, Austria
Precision agriculture for optimum agriculture output: Uttarakhand State India
Vasala Madhava Rao
GIET University, Odisha, India
SBAS for precision agriculture
Lasisi Lawal 
Nigerian Communications Satellite Ltd, Nigeria
DDASO project
Alicia Simón
San  José   Poaquil , Chimaltenango,  Guatemala
Remote sensing for agricultural monitoring and food security
Gao Maofang
Institute of Agricultural Resources and Regional Planning, Chinese Academy of Agricultural Sciences
 13:10
 Break (50 minutes)  
Afternoon session
 14:00
 Project pitch  
 
Space technology for agriculture development of family farms in Asia Pacific
Kristine Atienza
Space Generation Advisory Council
    14:05 
  Panel 1: Resilience   
Action Track 5 of the Food Systems Summit addresses food systems resilience, universal food access and climate-resilient development pathways to food systems transformation. The panel will showcase how space solutions contribute to ensure resilience of food systems and discuss how space applications could be further used.
    
Chair - Resilience
Juan-Carlos Villagran de Leon 
UNOOSA
Participatory methods and co-creation for the resilience of productive systems
José Madrigal / Lilian Juarez
CDMX, Mexico
From space to field: WFP innovations for zero hunger
Hila Cohen
World Food Programme
Boost agriculture by data driven decisions
Andreas Prankl
Farmdok, Austria
 15:55
 Project pitch  
 
UNOOSA-ESA-ISRO-NASA Earth Observation trainings for agriculture
Nathalie Ricard
 UNOOSA, ESA, ISRO, NASA
 16:10
 End of Day 1
Day 2 - Wednesday, 8 September 2021
Morning session
 9:50
 Webex connection opens  
 10:00
 Welcome
  10:05  
  Session 2: Innovations from Space
The session will present innovative solutions in early stages of development within the space sector that could benefit food systems, whether for production or transport, or as spin-off of food production for astronauts in space, including examples of what can be expected to become readily available in the next 5 to 10 years.

       
Moderator
Nathalie Ricard
UNOOSA
High-resolution satellite-based land surface monitoring using NavIC L5 signal
Bushra Ansari
Indraprastha Institute of Information Technology, India
Microgravity simulations platforms for crop farming benefits
Funmilola Oluwafemi
National Space Research and Development Agency, Nigeria
Food tech for space exploration saves the Earth and human society
Mizuki Komasa 
Space Foodsphere Association, Japan
Food security in space starts... on Earth!
Kaylon Paterson
Paterson Aerospace Systems, USA
The Ultimate Culinary Space Experience
Shahreen Reza
Astreas & Aleph Farms, Canada
 11:45
  Project pitch  
 
Spacebakery: Vertical farming and bakery for Mars bring sustainability to Earth
Filip Arnaut
Puratos and Space Bakery, Belgium
 
Introduction to independent dialogue
Nathalie Ricard
UNOOSA
 12:00
  Break (60 minutes)  
Afternoon session
    13:00 
 Session 3: Legal and regulatory aspects of space applications for food systems
The session will present the legal context in which space solutions are implemented, including regulatory aspects, notably for food certification, and discuss how new policies could be developed that would provide incentives to the use of space applications for food systems.
      
Chair
Niklas Hedman
UNOOSA
Fundamental principles of space law
Michael Newman
UNOOSA
The human right to food and the role of international space law 
Irmgard Marboe
University of Vienna, Austria
Food for discovering peace: Multilateral cooperation through space applications
Priyanka Jawale
Department of Law, Savitribai Phule Pune University, India
Certification for regenerative agriculture
Tomaž Ščavničar
Refarmo, Austria
 14:20
 Break (10 minutes)
 14:30
 Keynote presentation
 
Overview of the UN Food Systems Summit and Action Track 3 Nature-positive production
Barron Orr
UNCCD
 14:40
  Panel 2: Nature-positive production 
Action Track 3 of the Food Systems Summit addresses how to protect natural eco-systems, manage existing food production systems sustainably and restore degraded eco-systems. The panel will showcase space solutions that contribute to these goals and discuss how space applications could be further used. 
     
Chair
Xing Yi Ang
UNOOSA
Space and sustainable evolution of the agri-food sector
Beatrice Barresi
European Space Agency
Space technology for boosting nature-positive production
Chandrashekhar Biradar
CGIAR, Egypt
Space agriculture to enhance sustainable food production on Earth 
Davi Souza
Federal University of Rio Grande do Norte, Brazil
Singapore's space industry and nature-positive food production
Bai Zhiyong
Office for Space Technology and Industry, Singapore
 16:10
 End of Day 2
Day 3 - Thursday, 9 September 2021
Morning session
 9:50
 Webex connection opens  
 10:00
 Welcome
 10:05 
 Introduction to Independent Dialogue

The purpose of the Dialogue is to enable members of the audience representing various types of stakeholders (farmers, food processing, scientists, providers of technical solutions, policy-makers, etc.) to discuss in small groups how space applications could help solve current issues of food systems stakeholders and contribute to transform the way food is produced and transported. For more information, please see UN Food Systems Summit Dialogues Gateway.
 
Setting the scene
Nathalie Ricard / Xing Yi Ang
UNOOSA
 10:15 
 Independent Dialogue -  discussion groups   
Each Dialogue group will discuss specific questions provided in advance, in a moderated discussion, then synthesize their conclusions for presentation to all in the Plenary. Outcomes of these Dialogues will be provided, in a formal report, to the Food Systems Summit.
 Group 1  
 Raising awareness 
- How to raise awareness of what space solutions can bring to farming/fishing communities?
- What actions have worked in the past at national or regional level?
- What information channels are used by the farming/fishing communities?
 Group 2 
  User requirements 
- How can academia and R&D institutes better understand the real needs of the user community and translate these needs into technical requirements?
- What are the difficulties in moving from pilot projects to sustainable deployments of solutions?
- How do users want to be more involved?
 Group 3 
  Financing for development 
- What are the difficulties faced by farmers seeking financing for adoption of technology to improve agricultural productivity?
- What incentives and funding mechanisms could be put in place to mobilize resources (both public and private) in support of the deployment of technology in agriculture?
- How to promote innovative financing solutions for investment in agricultural technology? What can we learn from successful examples?
 Group 4 
  Technology transfer 
- How can technologies used to produce food in space be brought to solve Earth-based problems in food systems?
- What is required for spin-off initiatives to succeed?
 Group 5 
 Youth engagement
- What actions can young people take to advocate for the use of space technologies in agriculture?
- How can young people get involved themselves?
 11:45
 Plenary   
  12:20
 Conclusion
 12:30
 End of Symposium
Points of Contact
For additional information on the Symposium, please contact: unoosa-events@un.org
Dates and Venue
The dates of the Symposium are from 7 to 9 September 2021. The Symposium will be held online via Webex.
Working Methods
Speakers at the Symposium are requested to deliver an oral presentation or a demonstration of a tool via the web-based communication platform. On Monday, 6 September 2021, presenters will have the opportunity to do a test run of their presentations online. Presentations made at the Symposium will be published on the website of the Office for Outer Space Affairs (www.unoosa.org) prior to the Symposium to facilitate engagement of participants. The event will be recorded and videos of the presentations will be made available to the participants via an online platform after the end of the Symposium.
Sponsorship of the Symposium
The United Nations Office for Outer Space Affairs and Austria are responsible for organising the Symposium. It is supported by the Austrian Federal Ministry for European and International Affairs, the Federal Ministry for Climate Action, Environment, Energy, Mobility, Innovation and Technology, the European Space Agency, AUSTROSPACE, the City of Graz, the Regional Government of Styria, Joanneum Research and Graz University of Technology.
Target Audience and Expected Participants
The symposium is aimed at members of the diplomatic community, intergovernmental and non-governmental organisations, research and development institutions, policy and decision makers, senior experts, scientists, engineers and university educators, especially from developing countries.
Representatives from the various permanent missions of United Nations Member States in Vienna will be invited to the Symposium, along with representatives from various United Nations agencies and other international organisations, with the aim of promoting dialogue not only between policy-makers, but also with the private sector and end users. Representatives from the space applications industry are also welcome to attend and present their solutions.
The Office for Outer Space Affairs is committed to support gender mainstreaming in its programmes and advocates for balanced representation from different perspectives.
Language of the Symposium
The working language of the Symposium is English.
Deadline for Registration of Participants
Please note that the registration form is available here. Registration is open until 1 September 2021.
Online participation will be accepted until the maximum technical capacity of the web-based communication platform is reached.
Post-Symposium Capacity-Building Event
Following the symposium, UNOOSA is partnering with the European Space Agency (ESA), the Indian Space Research Organisation (ISRO) and the National Aeronautics and Space Administration (NASA) to provide a variety of training courses on the application of Earth Observation (EO) technologies for agriculture. These online courses aim to raise awareness of the use of EO technologies and remote sensing for agriculture and enhance participants' capabilities to use them.
The trainings are conducted exclusively online and include demonstrations using open source data and software. The trainings consist of both theory and practical applications to consolidate the concepts learnt. The trainings are delivered by subject-matter experts from ESA, ISRO, and NASA. By providing collaborative and interactive learning platforms, the trainings aim to connect participants from across the globe with experts and encourage exchange and flow of knowledge and ideas.
For more information about the course content and registration, please click here.