International Day of Persons with Disabilities 2022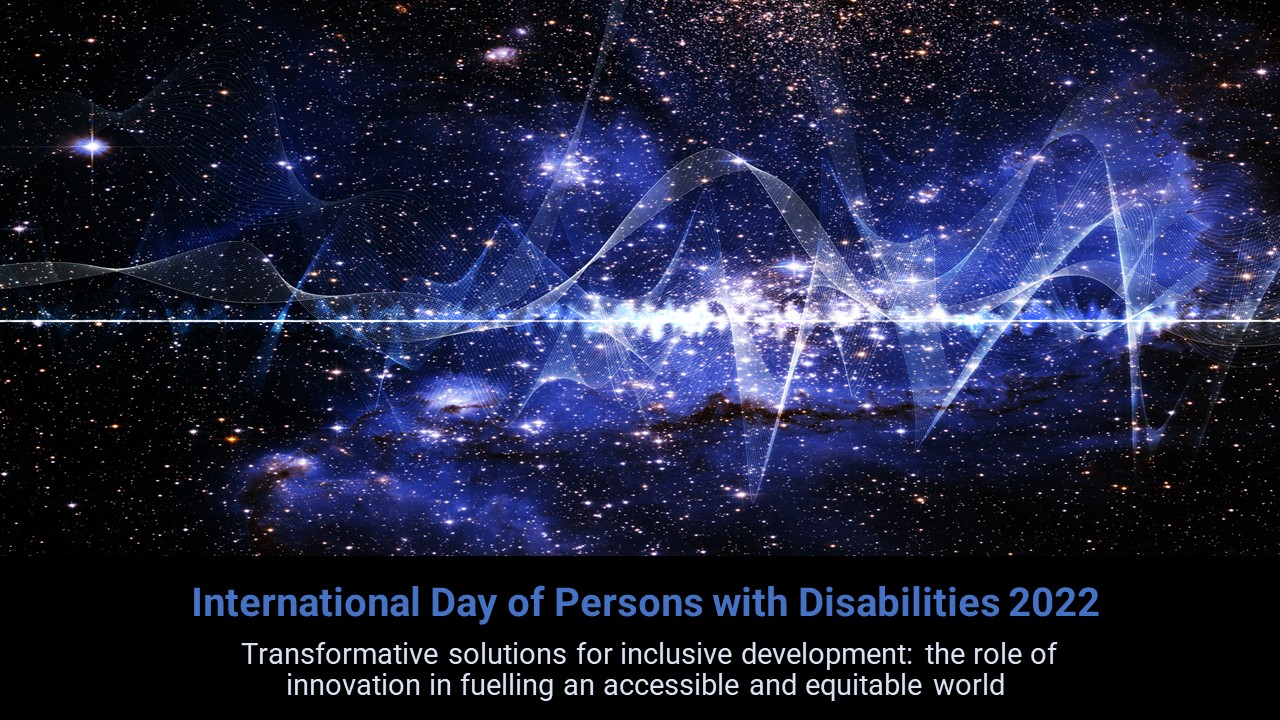 Background image: Infrared View of NGC 346 (Hubble). Credit: NASA, ESA, Antonella Nota (STScI, ESA). Design: Veronika Bachleitner.
Introduction
There are more than one billion persons with disabilities worldwide. In line with the theme of the International Day of Persons with Disabilities (IDPD) 2022 "Transformative solutions for inclusive development: the role of innovation in fuelling an accessible and equitable world", the United Nations Office for Outer Space Affairs is raising awareness of sonification as a technological solution to remove barriers for equitable and meaningful participation of persons with disabilities in space sciences.
Space sciences rely heavily on data visualisation for research, outreach, and education. But the spectacular view of the night sky and radiant images taken by telescopes are not the only way to experience and inspire interest in our universe and the space sciences.
Instead of images, sonification uses non-verbal sounds to relay information, which are as magnificent and useful to listen to as the images are to look upon. This makes space sciences accessible to persons who are blind or visually impaired as well as for others for whom sound is a preferred or more engaging way of interacting with data.
With the use of sonification we add another dimension to how we experience space and analyse, interpret and communicate data. This multi-sensorial approach opens doorways to new discoveries and a more inclusive future.
To raise awareness about the different aspects of sonification, the UNOOSA Space for Persons with Disabilities project organised an online event on sonification with two segments.
To read more about the event, please click here.
[SEGMENT 1] SONIFICATION PROJECTS IN SPACE SCIENCES
Segment 1 is a compilation of short videos of sonification projects in space sciences. Each video introduces the purpose of the project and its sonification methodology, demonstrates sonified samples and provides information on resources. 
Watch and listen to how artists, educators, science communicators, researchers and accessibility specialists employ sonification to engage the public and advance scientific research.
Click here to watch the video.
[SEGMENT 2] PANEL DISCUSSION
Segment 2 is a recording of the webinar "Sonification: a tool for research, outreach and inclusion in space sciences" held on 17 November 2022. Hear professional astronomers and experts in sound perception, science communication and accessibility discuss the current state of sonification in space science, challenges in implementation, recommendations on how to facilitate the advancement and adoption of sonification in space science research and outreach, and what to expect in the coming years.
Click  here  to watch the video.
A transcript of the panel discussion and Q&A session is available  here .
Subtitles are available in both videos.
Social media
What does sonification mean to you? We asked this question to four persons from different walks of life to find out how sonification benefits persons of all abilities. Share your comments and experiences with us on social media.
Click here to watch the video.
Special report
A special research report on sonification as a tool for research, outreach and inclusion in space sciences will be published in Q1 2023. Please monitor this webpage to follow the development. 
Message from the UN Secretary-General
Read the UN Secretary-General's message on IDPD and find out more about commemorative events at the United Nations  here.
Contact
For more information, please contact  unoosa-events@un.org