Space4Youth Stories
From science to law: applying a multidisciplinary approach to regulating the final frontier - by Thomas Graham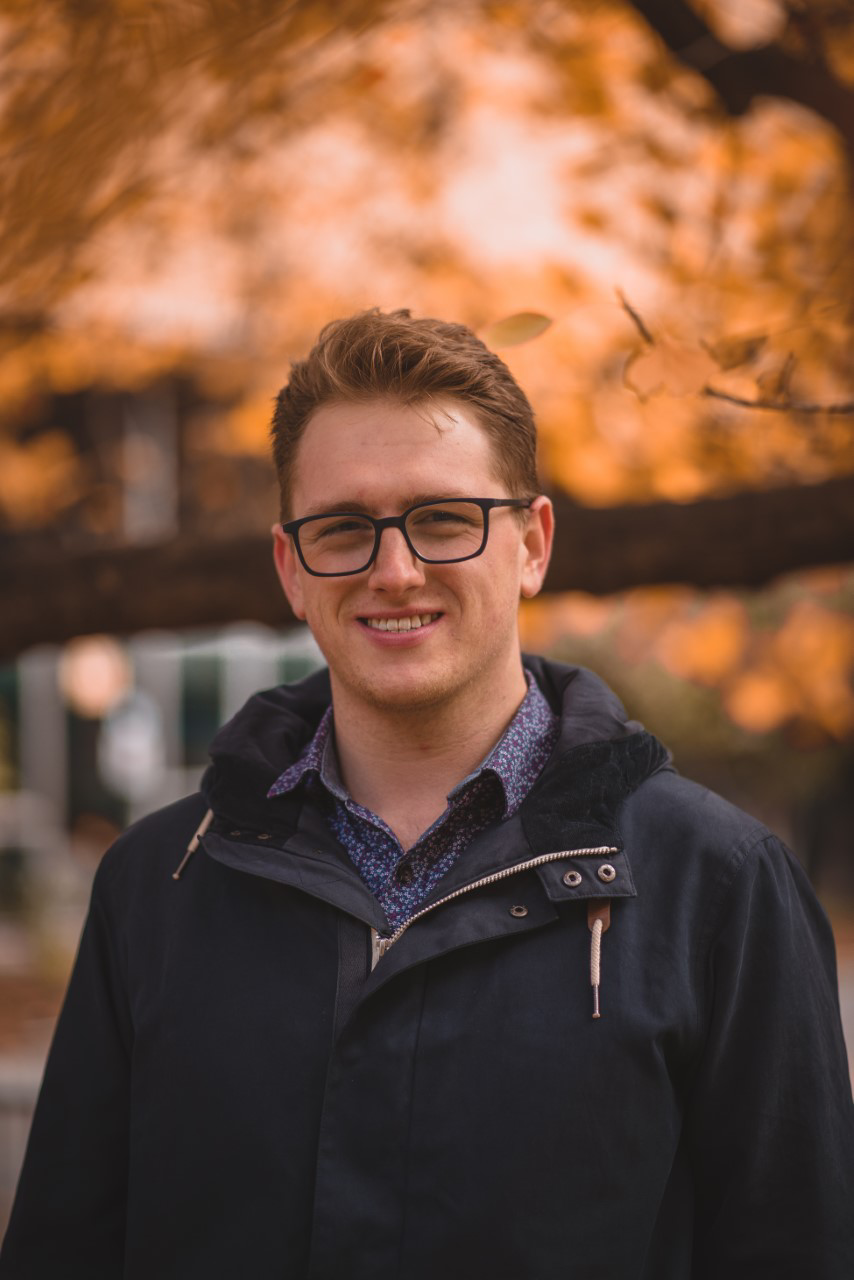 After completing my Bachelor of Science at the University of Melbourne, majoring in Physics, I was accepted into a Master of Science program within the university's astrophysics group. Having studied physics for years, with lots of friends in the program, it was a dream come true. I had read Stephen Hawking as a child and always focused on maths and science as a young student, so physics felt like a natural choice. However, looking at the issues facing the physics researchers I admired, I realised that it was not gaps in talent and knowledge getting in the way, but a need for more funding and organisational support from corporations and governments, to provide the necessary facilities, equipment and funding. I felt I could make a difference in this way, by approaching the problem from the legal perspective. I had applied to complete a Juris Doctor at the University of Melbourne to keep my options open, and, by framing it as a way to contribute to the scientific community, it became a very attractive choice. 
After commencing my legal studies, I still felt unsure about whether it was the right decision. During the first semester, by pure coincidence, while browsing through a law student group Facebook page, I saw someone share a link to Melbourne Space Program as they were recruiting for their legal and regulatory team. It seemed too good to be true as it perfectly combined my interest in space and in law. Given that I had been struggling with direction in my law degree, this was the perfect opportunity. Fortunately, my application was accepted, and so my work with Melbourne Space Program commenced in 2018 when I joined as a Regulatory Officer. I later held the position of Company Secretary, responsible for the day-to-day administration and coordination of the program. In 2020, I transitioned into my current role as Business Sustainability Manager - effectively charged with running the program's legal team - and my remit is wide. I contributed significantly to the launch of ACRUX-1 - Melbourne Space Program's first student-built nanosatellite - by navigating domestic and international regulatory regimes to ensure compliance both pre- and post-launch. I have also been involved in designing link budgets, wherein I work with engineers to determine the amount of data that each pass of a satellite can transfer to a ground station on Earth, and how much that data upload and download will cost. My work for the Melbourne Space Program also involves ensuring we are meeting all legal obligations with other parties and supporting our projects to ensure compliance.
In 2020, as Melbourne entered its strict lockdown amidst the COVID-19 pandemic, the team at Melbourne Space Program began to discuss hosting a virtual panel about Space Law. I volunteered to take the lead and help to develop Melbourne Space Program's professional network. We wanted legal experts from a variety of fields, so I reached out to the University of Melbourne's Science and Technology Law Association, who I knew through my own legal studies. Through our combined networks, we were able to secure five panelists from top-tier law firms, research institutions, consultancy firms, and even a space lawyer and astronaut candidate. We held the panel, which was a great success, focusing on avenues for beginning careers in space law, as well as challenges and opportunities in the industry. The panel attracted more than 200 viewers, signifying a great deal of interest in space law generally, especially amongst emerging professionals.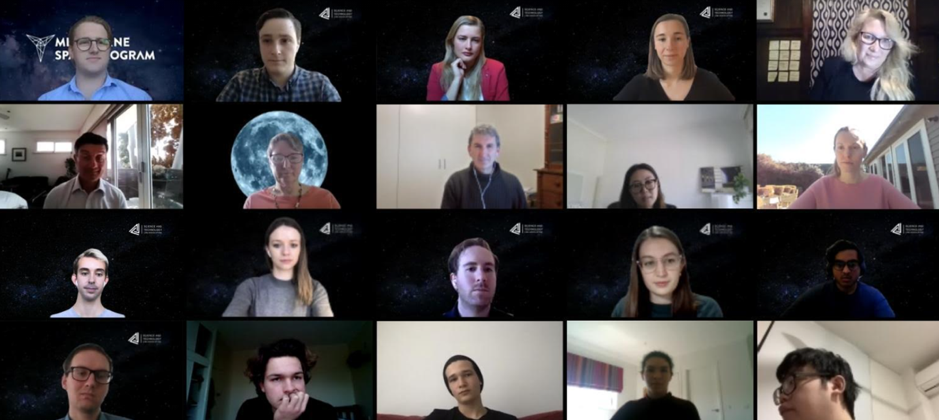 An image from the space law panel organised by the Melbourne Space Program. 
The experience taught me a lot about the Australian space industry and the work that remains to be done. Currently, it is a somewhat disconnected industry, with a large number of startups still getting off the ground without connecting to other companies for networking and support. However, every person I have met along the way has been enthusiastic, passionate, and eager to support one another to make the industry better for everybody. I have always been met with warmth, welcoming attitudes, and support from industry professionals, and now that I have made these connections, I am more confident to keep going and put myself out there to contribute to the changes taking place. Hosting the Space Law panel in 2020 confirmed that I am on the right track, and that following my passion will lead to good things.
Though I am still at the beginning of my career in the space industry, my experiences thus far have taught me a great deal about getting started in the sector, particularly from a legal and business perspective. I recommend getting involved in any interesting initiative or association related to the sector wherever possible and making connections through them (as I did by joining Melbourne Space Program). It is important to seek out groups with similar interests, either to join in or to find out more about what is happening in the industry and what directions you can take moving forward. As important as academic knowledge is, it only matters if you apply it and make connections in the sector. It takes a combination of knowledge, passion, and putting yourself out there to get a start in the field. On a personal level, the Melbourne Space Program has also gifted me with personal friendships and a whole lot of fun working across our various projects.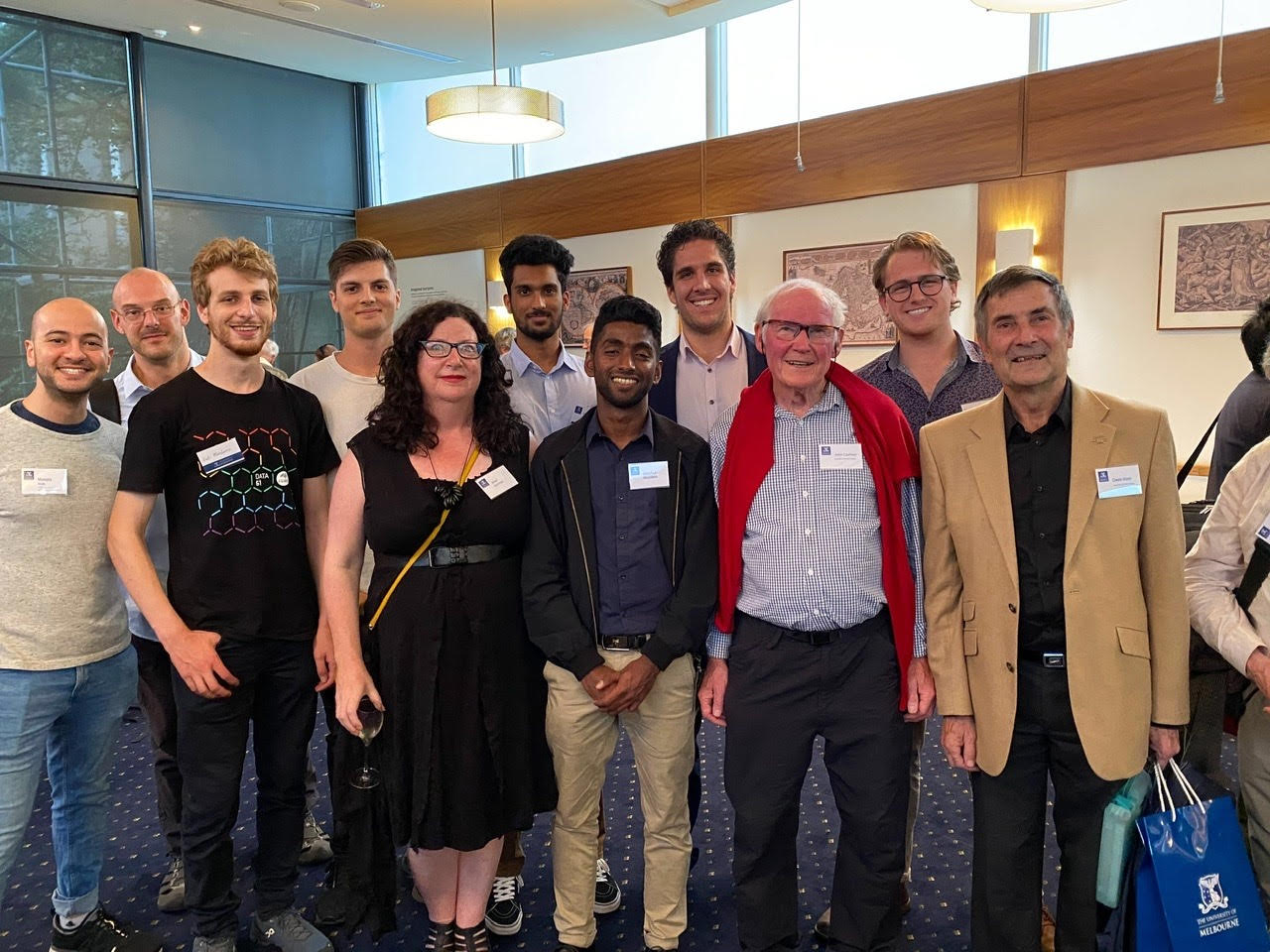 OSCAR-V 50th anniversary event with other members of Melbourne Space Program.
From my extensive experience working within a student-led space organisation, I have learned a lot about how the voices and ideas of young people can be promoted in the space sector on a wider scale. Organisations like Melbourne Space Program are a great way for this to happen, as they provide a platform for young people to get involved and share their ideas in a collaborative and engaging space. Melbourne Space Program's recent submission to Australia's parliamentary inquiry into the development of the nation's space sector was also a tremendous opportunity for new voices in the industry to be heard on a national level. This involved writing a submission to the government in support of student programs that can provide technical training and funding for qualified students to enter the space industry.
In law school, there was a real sense of being 'funneled' into certain career paths, particularly the traditional commercial law route. Although there's value in that path, I personally have found that being a part of Melbourne Space Program has kept me connected to my background in science and my passion for advancing technology and our understanding of the universe. I now have a clearer understanding of the areas of law that excite me - regulation of space and telecommunications and space law are fascinating areas that I'm eager to learn more about. To this end, my final unit of legal studies consisted of an extended research paper on the international regulatory framework governing space debris management, including the laws and regulations developed by the Committee on Peaceful Uses of Outer Space (COPUOS), of which UNOOSA is Secretariat. I will soon be presenting my paper's key findings to the Latin American and Caribbean Space Network's Sixth International Colloquium.
I'm excited about any and all opportunities to learn more, to take the riskier path and learn in the process. I know that the enthusiasm is out there, and it's reassuring to me to know that we will continue to see the sector grow. Space law is a rapidly-developing field and I was, and still am, eager to get involved.