Space4Youth Stories
My internship at UNOOSA and promoting space sustainability - by Annie Kazarjan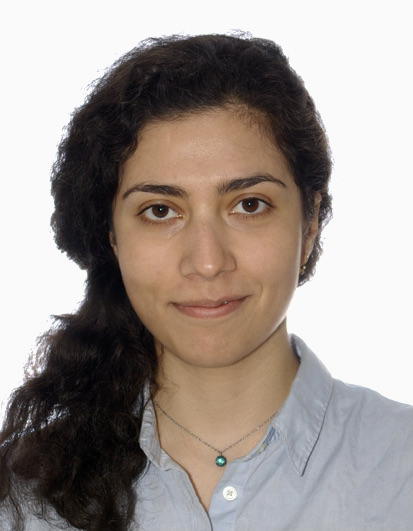 In 2021, I joined the Office of the Director team at UNOOSA as an intern, for a period of six months, during which I supported project activities about space sustainability and the Office's external relations, under the supervision of Mr. Ian Freeman.
Due to the COVID-19 pandemic, the past year had been challenging for me, as for most people around the world. During this global vigilance period, my internship opportunity provided me with a refuge of motivation and support every day, by virtually connecting me with and giving me the chance to learn from the open-minded, kind and truly professional UNOOSA colleagues. Being with the Office enabled me to directly deal with space policy, space law, and international cooperation in space, which is something I had always wished to pursue since I first encountered the issues of Near-Earth Objects (NEOs) and Planetary Defense in a TIME Magazine article about nine years ago. Impacts from NEOs, such as comets and asteroids, can potentially lead to significant damage to life and property on our planet, as it happened in the past in some cases. Therefore, addressing such a hazard, including by identifying objects that pose a risk of impact, and planning appropriate mitigation mechanisms, requires concerted action from the global space community. Besides this particular interest, I have always been fascinated by innovation, space technology and science, which enable humanity to explore and responsively stretch our capabilities beyond Earth, but also help society to sustainably thrive on our planet.
Throughout my BA, majoring in international studies in the U.S., and while attending law school in Hungary, public international law and international cooperation were always the focus of my studies and interests. After obtaining my law degree, I became a legal officer in a local human rights NGO in Budapest, and, during my spare time, I tried to learn about space law and policy, mostly through the Central European University Library.
The following year, in 2019, I got a chance to present a short essay I had written on the Moon Agreement in the Young Lawyers' Symposium, organized by the European Centre for Space Law (ECSL) at the Space Research and Technology Centre of ESA in Noordwijk. The ECSL event and my enthusiasm towards the subject encouraged me to pursue space policy and law further, and I was fortunate enough to be selected for an Advanced Master's Space Studies Programme at KU Leuven University. In this programme, I was able to learn from scientists, astronomers, lawyers and space policy experts about topics such as life sciences in space, orbital mechanics, space science and exploration, space policy, and space law.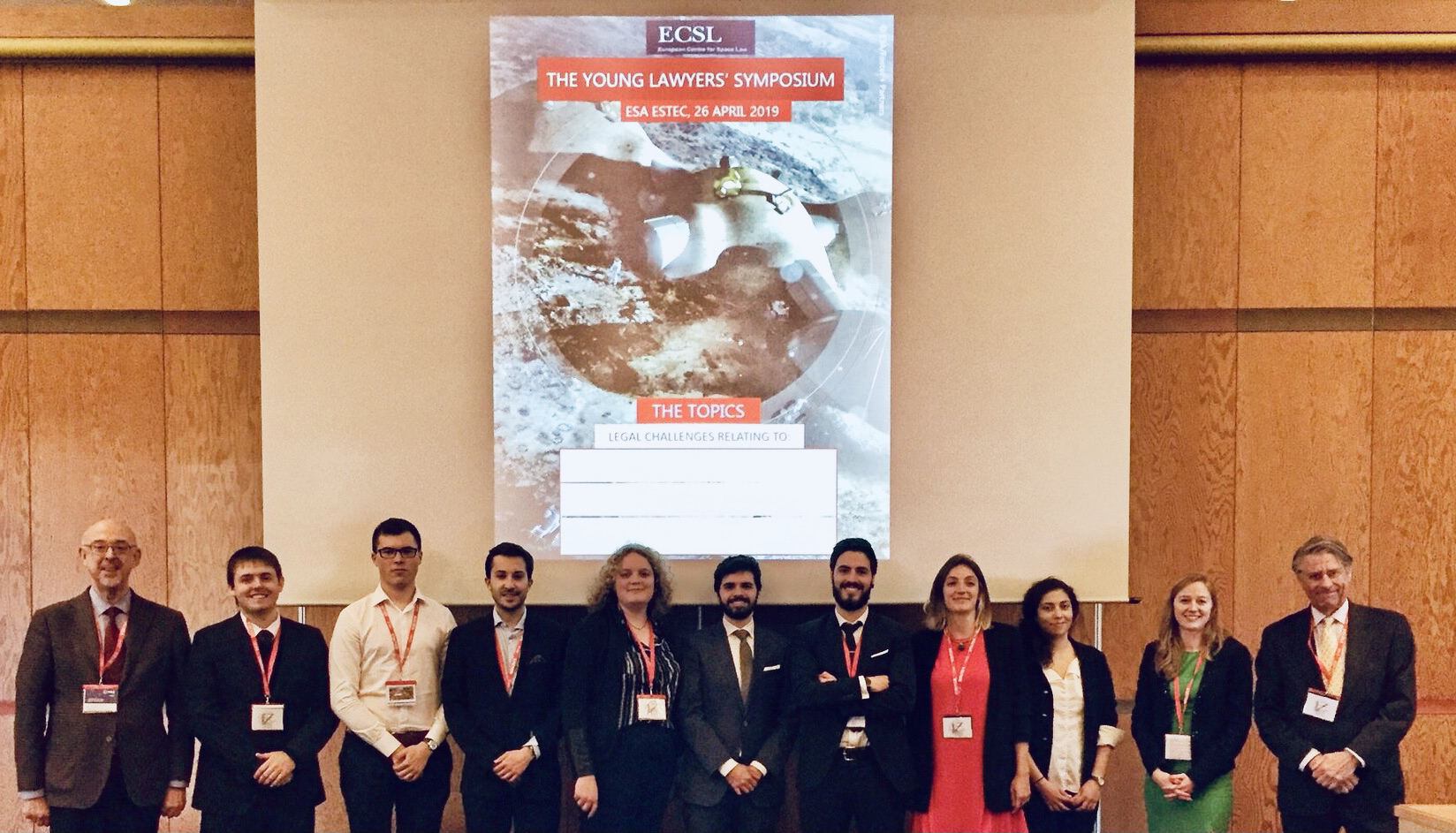 Attending the Young Lawyers' Symposium at ESA ESTEC in 2019.
After the one-year Master's programme ended, I applied and was selected for the internship at UNOOSA, which is an organization with an exceptional role to address some of the most pressing issues that outer space entails globally, through an interdisciplinary approach that involves a variety of stakeholders, from member states to space agencies, the space industry, academia, and civil society.
My main internship task was a stakeholder engagement exercise on space sustainability, during which I got to hear the insightful views of more than 50 experts from the space sector. Although I was knowledgeable about space sustainability, and, more specifically, about the issue of space debris already before my internship, working on this project made me comprehend the true complexity and challenges involved in space sustainability. Such challenges - and also opportunities - include the increasing presence of the private space market, satellite miniaturization and the growing demand for space services on Earth.
Looking into the Space Object Register that UNOOSA maintains on space objects launched into Earth orbit or beyond - with the information provided by States and international intergovernmental organizations (IGOs) - one can observe the exponential growth in objects launched into space. While the number of objects launched continues to increase, no global consent has been reached yet on basic metrics of space sustainability, such as the carrying capacity of our orbits. While many of us think of space as an infinite resource, our orbital environment is a precious finite resource that is becoming more and more crowded with man-made space objects. Needless to say, the more cluttered the Near-Earth environment becomes, the higher the likelihood of cascading accidents (given the high speed at which objects are circling around the Earth). Therefore, according to most experts, space actors need to act now to ensure continuous access to space from Earth.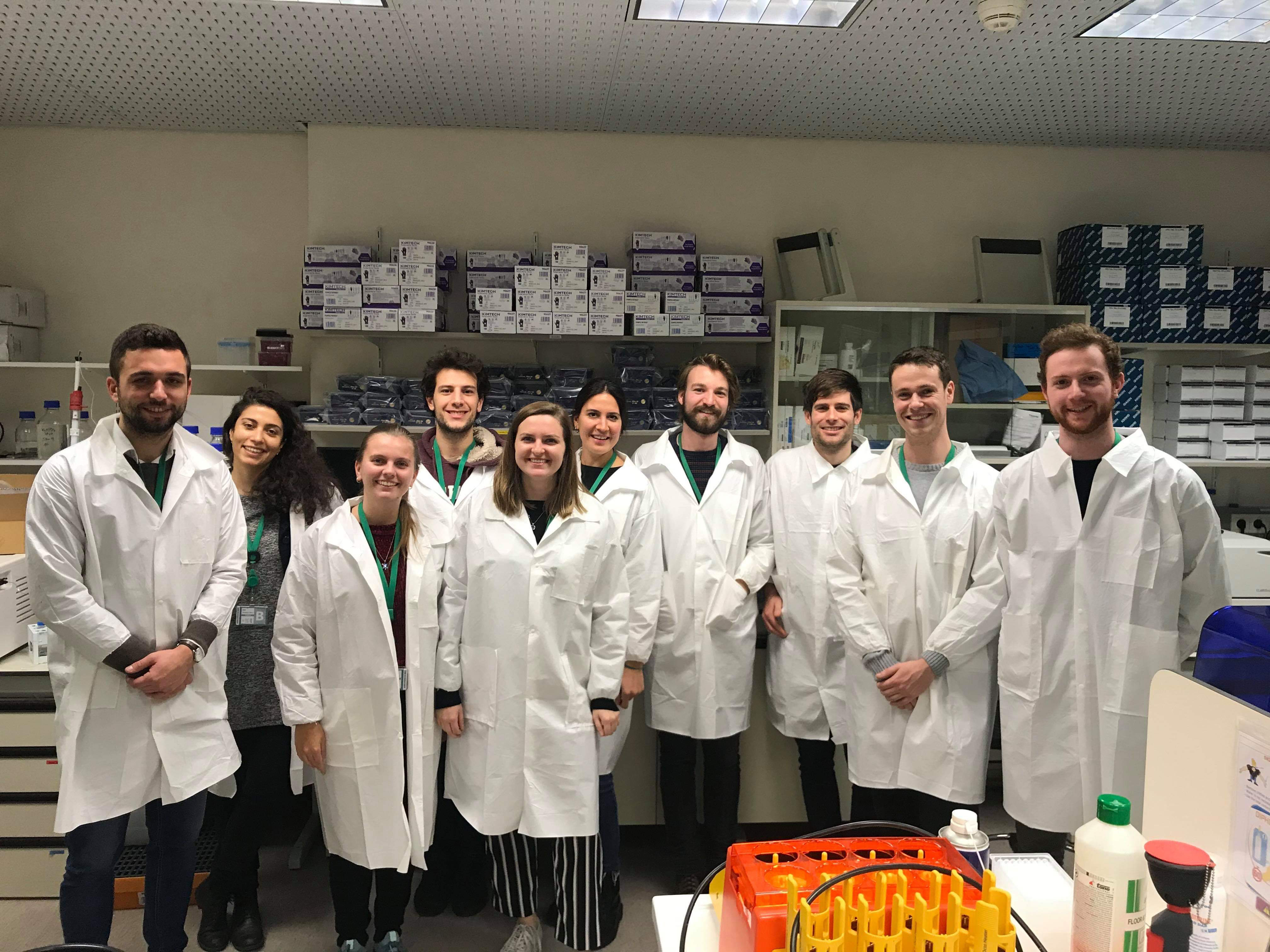 Intro to Life Sciences in Space at SCK CEN, the Belgian Nuclear Research Centre, with KU Leuven classmates.
In the second half of my internship, I have also had the chance to help UNOOSA promote awareness and understanding of the Long-term Sustainability (LTS) Guidelines (adopted by the Committee on the Peaceful Uses of Outer Space, COPUOS, in 2019). By following the LTS Guidelines, States, IGOs and other space actors can reduce risks to the long-term sustainability of outer space activities. Under the Promoting Space Sustainability Project, I helped UNOOSA collect case studies on how sustainable space activities look like in practice for different stakeholders, such as space companies and national space agencies. I also helped make such information publicly available and facilitate discussions on sustainable practices, mapped across the LTS Guidelines. By promoting dialogue and making available such case studies, we aim to help various actors in the space field collect ideas on existing sustainable practices, as well as challenges, and potential lessons on the way.
I surely consider myself fortunate to have taken part in all the above activities at UNOOSA, albeit virtually. I was able to increase my knowledge not only on space matters, but also on how to foster international cooperation at the United Nations level. Even though UNOOSA is a small office in comparison with other UN entities, the topics and activities that it covers are rapidly expanding and are increasingly relevant. Keeping up with the accelerating changes in the space domain requires a unified effort from the global space community, through consensus and common standards and interpretations. In the area of space sustainability, UNOOSA stands to represent the shared interest of our society, which is ultimately the protection of our Solar System and the Earth within.
As a suggestion to young professionals who are considering pursuing a career in the space sector, I think that reaching out directly to those who already work in your field of interest is a great start. Asking for advice and receiving helpful responses from professionals (or "mentors") can help you envision the path ahead, as well as inspire and encourage you. Contacting mentors from the international scene can be especially helpful in countries like Hungary, where space is still not a widespread subject. Additionally, taking part in competitions such as the UNOOSA Space4Youth competition, the Manfred Lachs Space Law Moot Court Competition or the Young Lawyers' Symposium can help you get to present your ideas internationally, to get to know more like-minded space-enthusiasts, and to increase your knowledge on space topics. Furthermore, networking in space events can enable you to directly exchange ideas with professionals in the sector. Even though space events can be expensive to attend, there are many opportunities for students or interns to receive discounts, and there are increasing opportunities for virtual events. Last but not least, an internship or work experience in your targeted sector, like I did at UNOOSA based on my interest in international cooperation, can also help you collect valuable practical experience for your future space endeavours. Once your path becomes a bit more certain, I would also encourage everyone not to forget your journey and be open to helping other young people facing similar challenges.