From Sportswear to Space: My Story and a Call for Young Creatives to Take the Space Sector to New Heights
by Tea Tuur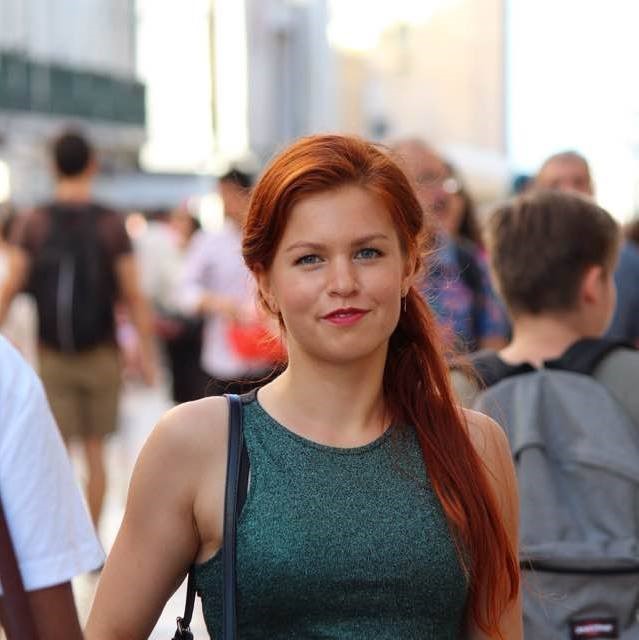 Tea Tuur
At the age of 28, I am not sure I would qualify as "a young professional". However, having found my way to the space industry 3 years ago, I am definitely in the early stages of my career in this sector and have some thoughts to share with the new generation of space enthusiasts.
With this story, I would like to talk about how I ended up in the space sector and to give recommendations for young people who are interested in working with space and satellite technologies. I would also like to share some insights on innovation and creativity, and hopefully help young people understand and acknowledge the unique value that they can add to the sector.
My journey to the space sector
I grew up on a small island in Estonia called Hiiumaa. With a population of less than 10,000 people, there was little room for big industry or disruptive innovation. However, this environment fuelled my creativity and ingrained in me a strong passion for nature and wildlife.
The early stages of my career and studies led me to apparel making, where I spent 4 years learning how to design, manufacture and market fashion items, including internships with some of the best designers and fashion labels in Estonia, as well as Adidas in Germany. It satisfied my creative spirit, but I did not feel like I was making a difference in the world or helping solve large-scale challenges that are threatening life on Earth.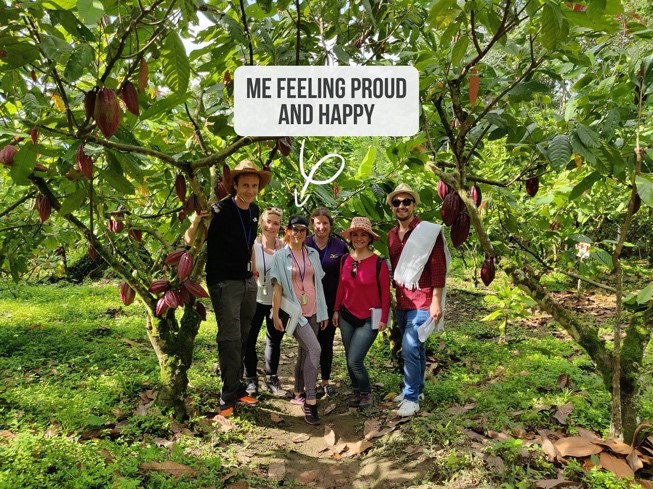 Image: COLCO project team in a cacao farm in Saint Vicente De Chucuri, Colombia. ©Satellite Applications Catapult
So, I decided to broaden my horizons further and do my MSc in Estonia in an innovative international programme called Design and Technology Futures, advertised as being "for a new generation of radical innovators, design leaders and change makers who have a drive for meaningful impact on the world". The programme was focused on human-centred design, design thinking and radical innovation and it completely transformed my outlook on the world. Before my MSc, I saw design as a way of creating cool, trendy and beautiful artefacts; human-centred design, however, transformed this view and made me look at everyday objects as social and cultural experiences that have inherent value and impact for the people who use them. It also helped me advance by business knowledge and realise that in essence, business is all about making bets on human behaviour.
After getting my MSc, I was on the lookout for opportunities in disruptive start-ups when I stumbled upon a job advert from the Satellite Applications Catapult (the Catapult) based in Harwell, U.K. The role was called "Design Thinker" and the advert emphasised how the organisation is using design and space technologies to change the world and advance sustainable development. The Catapult was established by the UK government to transform the UK's capability for innovation in satellite applications and to help drive future economic growth. They help organisations make use of, and benefit from, satellite technologies, and bring together multi-disciplinary teams to generate ideas and solutions in an open innovation environment.
At the time, I knew nothing about the space sector or satellites, neither was it a requirement for the position. Long story short, I travelled to the UK for my job interview, got the role and have now been working in the space sector for three years, and learned and accomplished so much more than I ever believed to be possible.
But what does it mean to be a Design Thinker in the space sector and how did I add value? My role utilised many of the skills I had acquired during my studies in design and product development, including ideation, facilitation, sketching, prototyping, user research, user experience and user interface design, graphic design, etc. Typical activities in my work included:
Running business and design sprints with small and medium size enterprises to help them better define their business ideas, understand their market and users;
Working on projects as a researcher, conducting interviews with stakeholders and users, planning and facilitating workshops, helping technology experts understand thematic challenges and design appropriate solutions;
Working on projects as a product designer, co-creating digital and physical solutions with end users from sketching, prototyping to high fidelity designs that get implemented by developers.
One example of my work is the COLCO project in Colombia. Its aim was to leverage data from satellites as part of climate-smart solutions for agriculture. The project is a good example of how complex challenges can be addressed by merging technological solutions with local know-how in areas such as farming, knowledge of value chains and business viability. My contribution to the project was to conduct a landscape analysis via desk research, in-country interviews and collaborative workshops, to identify bottlenecks and visualise a scalable service concept.
Another example of my work was the CommonSensing project in the Pacific. Its aim was to bring together experts in satellite analysis and applications, climate modelling, disaster risk and agriculture to develop tools to support decision-making and to produce training sessions for government and private sector actors on improving climate resilience in three Pacific countries (Fiji, Solomon Islands and Vanuatu). My expertise in user research and facilitation of workshops and co-design activities was important to enable the cross-cultural and multi-sectoral exchange of thoughts and ideas, as well as to visualise a holistic solution concept that everyone could understand and align with. 
Non-traditional careers in space
Through my work in the sector, I have met a lot of clever people with various backgrounds and roles - just like any other sector, the space sector needs specialists in human resources, marketing, social media, business development, finance, legal, design, and other areas that are crucial for business success. With the increasing privatisation of the sector and the emergence and dominance of so-called NewSpace, new roles and skills are needed for organisations to differentiate themselves and better cater to their customers.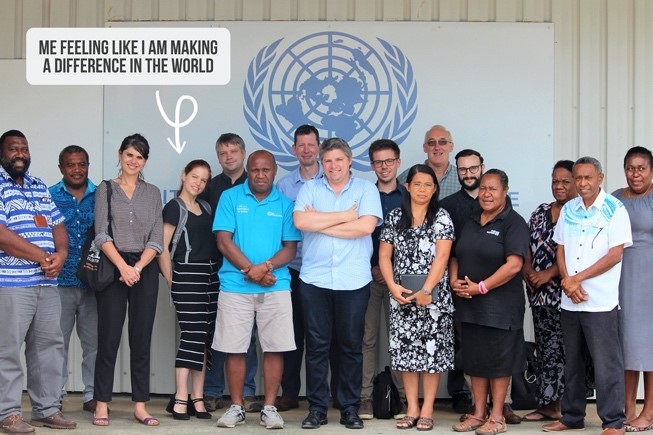 Image: CommonSensing project team in Port Vila, Vanuatu, following a consultation with local UN officers. ©Common Sensing Ltd.
Often times, when people - especially young people - think about careers in space, they think about astronauts and engineers. They believe that in order to succeed in this sector, you have to be brilliant at physics, mathematics, or be an excellent programmer. For many people who are unfamiliar with this field, a job in the space sector may feel unattainable. Even having gotten their foot in the door, they might feel misplaced, and the imposter syndrome is very real, though not often talked about.
I recently stumbled upon an old article from SpaceCareers UK called What does the Space Industry want from Graduates?. The article summarised the opinions of UK space industry experts into 5 key points. How many of the desired characteristics from graduate are technical skills? Exactly zero. The article emphasised the need for cultural empathy, creativity and entrepreneurship, business and commercial awareness and good interpersonal skills.
For example, in my career I am focusing on applying human-centered thinking in the space sector and helping technology organisations design better products and services through connecting and engaging with their users and customers. The skills needed in this role are not traditionally "technical" in nature, but are nonetheless important to helping our projects succeed.
So, if you love space and you would like to contribute to building a better future using space technologies, but you are not extremely technical, nor adventurous enough to want to venture off planet Earth, then do not despair. You can still develop skills and knowledge that are valuable for the industry and build a career in space.
A fresh perspective from young creatives
My main reason for writing this story is to deliver this key message to young space enthusiasts: you are valuable, and you need to find the confidence to realise your value. You may not have years of experience, but that can also be a good thing if you allow it to be - you have the ability to look at things with fresh eyes, to challenge ways of working, to have a creative and modern outlook on the world and the desire to build a better tomorrow.
Without creativity and innovation, space organisations would be stuck in old ways of working and eventually risk being left behind. With the space industry changing more rapidly than ever before, there are many good opportunities today for young people to get involved and come up with new solutions and processes that challenge old ways of working and enable an even wider adoption of space-based solutions in the society.
The space industry needs you!