From 2021 Space4Youth winner to COP26 Youth Champion
by Tejasvi Shivakumar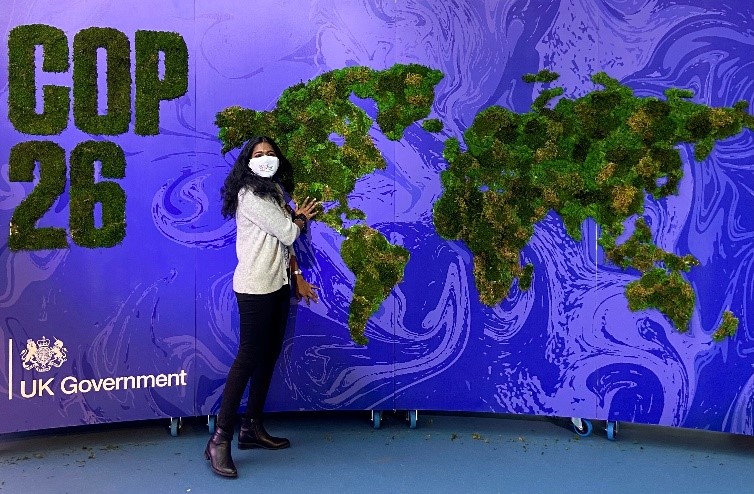 Tejasvi Shivakumar
My name is Tejasvi Shivakumar and I am a third-year PhD student at the University of Nottingham. I am originally from Chennai, India and I now live and study in the UK. My PhD is in 'Astromedicine and Astropharmacy' which is an exciting, new field of science aiming to address the medical and healthcare challenges associated with long-duration space travel.
I am one of the three winners of the 2021 edition of the Space4Youth competition organised by the United Nations Office for Outer Space Affairs (UNOOSA) in collaboration with the Space Generation Advisory Council.
The essay contest, which is at its third annual edition, provides the opportunity for young people to share their ideas and examples of how space can support Sustainable Development Goals. In 2021, the Competition was part of the Pre-COP26 activities programme and it focused on SDG 13 "Climate Action", and how space technologies address climate change mitigation and adaptation.
Thanks to this competition, I have had many incredible opportunities to take part in. In November 2021, I had the chance to contribute to COP26 (26th UN Conference of the Parties Climate Summit)! COP26 was hosted by the UK and took place in Glasgow, with the aim to discuss how climate change should be tackled and agree on global/national targets for climate change mitigation. The COP26 goal that resonated with me the most was 'accelerate the phase-out of coal and encouraging investment in the renewables'. In fact, my essay for the Space4Youth competition was titled Earth Observation, Renewable Energy and Climate Influencers as Tools for Climate Mitigation. It focused on the use of space technologies, specifically Earth Observation, to map locations for renewable energy generation and to optimize its production. In addition, I proposed the development of a programme with climate and space influencers to raise awareness about how space is propelling climate change adaptation and mitigation.
Part of the prize for the UNOOSA/SGAC competition was the chance to network and receive mentoring from experts selected by NASA and the UK Space Agency. This was how I first got introduced to Space4Climate, a UK-based community bringing space-climate data users together from academic, public and private sectors. Thanks to UNOOSA and Space4Climate, I was also invited to attend the COP26, as this meant talking to people about how space is driving climate change mitigation and adaptation!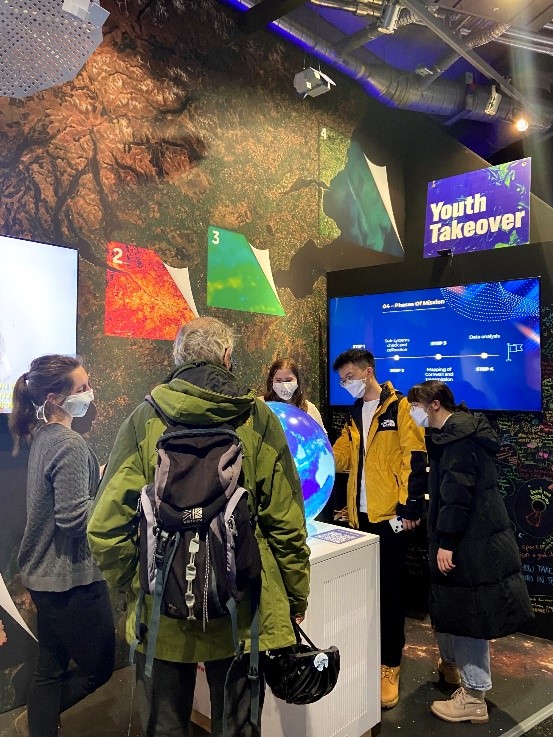 Youth takeover day at the Space4Climate and European Space Agency stand, 12th November 2021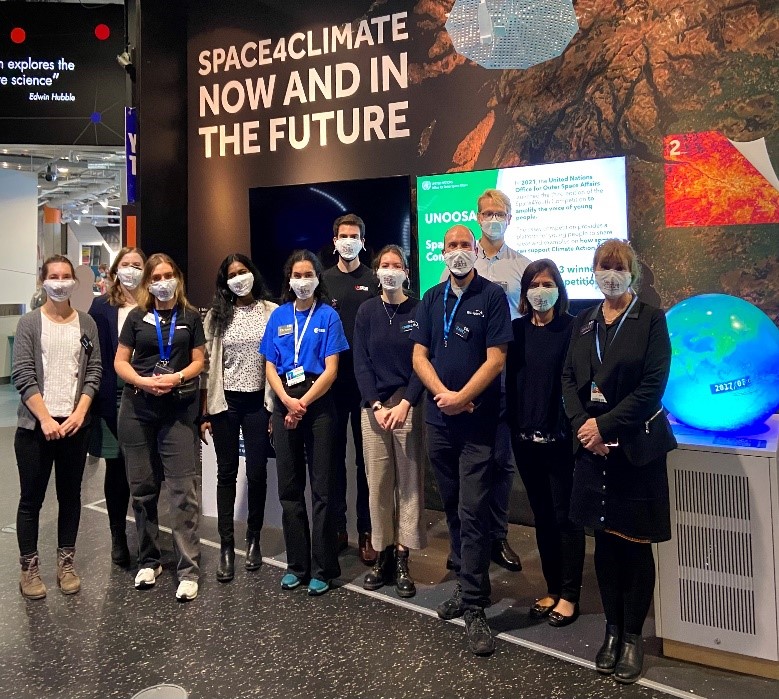 Meeting other young researchers and scientists on the stand provided a great networking atmosphere

The highlight of my visit to COP26 was participating in the 'Youth Takeover Day' on the 12th of November. This day focused entirely on the youth - about our thoughts and visions for a green future, how we can influence policymaking at the international level and finally, networking with other like-minded individuals.

Other activities involved talking to the general public (especially school children and young people) about climate research from space. I had the chance to meet scientists who are tackling climate change using data from space (i.e. Earth Observation) and importantly, other PhD students like myself working on crucial projects such as monitoring biomes, melting of ice and renewable energy generation.
This year, exceptionally due to COVID-19, many activities were organised online. This enabled more people than ever before to get involved! The other two 2021 Space4Youth winners, Mahlak Abdullah and Karina Berbert Bruno, based in North and South America respectively, joined online. Together with UNOOSA, we prepared a short video to highlight and explain the value of space technology for Climate Science and Action and shared our messages with the world leaders and general public attending COP26. Furthermore, many young people from across the world were brought virtually on stand at COP26 through Instagram live streams, stories and other interactive activities!
Overall, it was a great experience! I strongly believe that events such as these are instrumental in inspiring the next generation of humans, scientists, leaders and young professionals who are interested in a career within the space sector. My suggestion to such individuals is to start building your presence in the space industry. Competitions such as the Space4Youth initiative offer a great opportunity, not only to participate but also to network! Other initiatives by the United Nations and UNOOSA, student space societies, conferences and social events are a great starting point - many organisations also offer support for students and young professionals to attend these so start building your story today.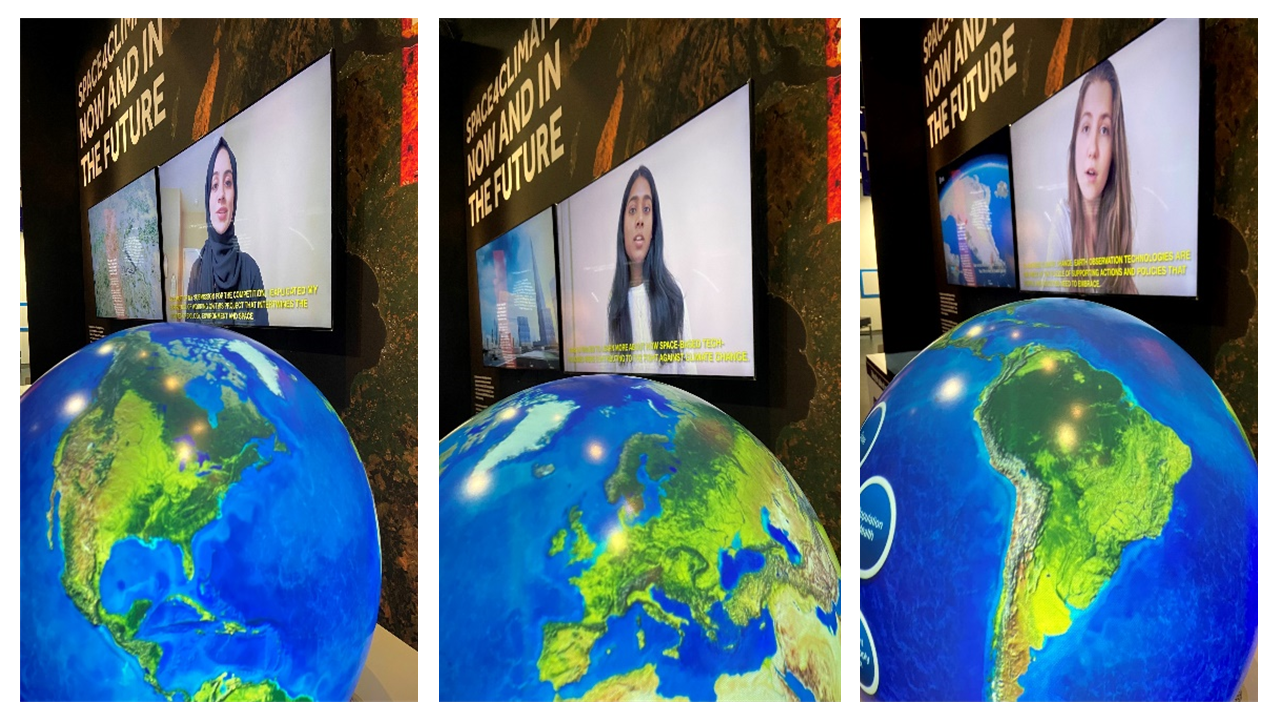 The stories and messages of the 2021 UNOOSA Space4Youth competition winners were featured on the COP26 youth takeover day (Left to right: Mahlak Abdullah, United States; Karina Berbert Bruno, Brazil; Tejasvi Shivakumar, United Kingdom)