Basic Space Technology Initiative Fellowship Programme
United Nations/Japan Long-term Fellowship Programme 2021 
Post-graduate study on Nano-Satellite Technologies (PNST)
(Kitakyushu, Japan)
Applications are closed. (Updated 25 January 2021)
<NEW>  PNST WEBINAR 
Monday 14 December 2020 10:00CET (click here for Agenda)
Recordings: Click here to go to our YouTube
Presentations:
- Introduction to PNST by UNOOSA
- Introduction to PNST and SEIC (Space Engineering International Course) by Kyutech 
- Lightning Talks from Current and Past Fellows:
Pooja Lepcha (Bhutan) , Keenan Chatar (Trinidad and Tobago)
Mohammed Yahia Edries (Egypt) , Erdenebaatar Dashdondog (Mongolia)
We interviewed one of the current fellows; Ms. Pooja Lepcha from Bhutan!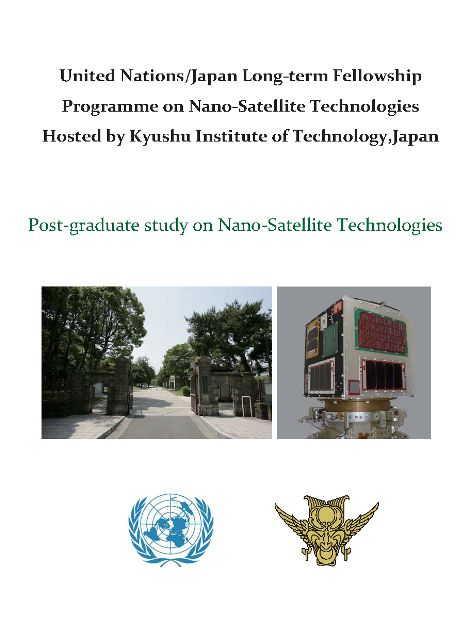 The United Nations Office for Outer Space Affairs and the Government of Japan in cooperation with the Kyushu Institute of Technology (Kyutech) have established a United Nations/Japan Long-term Fellowship Programme on Nano-Satellite Technologies for nationals of developing countries or non-space-faring nations. The Programme will provide extensive research opportunities in nano-satellite systems through the use of the  nano-satellite development and testing facilities available at Kyutech.
Every year this "Post-graduate study on Nano-Satellite Technologies (PNST)" Fellowship Programme will accept up to three students in the Master's Program (2 years duration) and up to three students in the Doctoral Program (3 years duration). Successful participants will be awarded a master or doctoral degree after successful thesis defence. The successful candidates will enroll in the Space Engineering International Course (SEIC) after passing an official entrance examination by the Graduate School of Kyushu Institute of Technology.
The selected candidates will each receive a grant under Japanese government (Ministry of Education, Culture, Sports, Science and Technology: MEXT) scholarship (Research Students) of approximately 144,000 JPY per month for the duration of their fellowship study (2 or 3 years) to cover housing, food, local transportation, and other expenses. Each candidate will be provided, according to his/her itinerary and route as designated by MEXT, an economy class air ticket between an international airport in the country of his/her nationality and Narita International Airport or Fukuoka International Airport. Fees for matriculation, tuition and entrance examinations will be paid by Kyutech.
The purpose of this fellowship is to help non-space-faring nations join the community of space faring nations.  Consequently, if you are selected as a PNST Fellow through the aforementioned process and you earn your advanced degree at Kyutech, you have an immense moral obligation to return to your home country and contribute to it.  This is the central expectation of both UNOOSA and Kyutech.
Applications for the Fellowship Programme will be accepted until 24 January 2021 (Sunday, 23:00 JST)

PNST Fellowship Programme Details
PNST Presentation at the 50th Session of the Scientific and Technical Subcommittee, 13 February 2013
PNST Presentation at the 59th Session of the Committee on the Peaceful Uses of Outer Space, 10 June 2016
PNST Presentation at the 60th Session of the Committee on the Peaceful Uses of Outer Space, 9 June, 2017
G. Maeda, M. Cho, Five-year results of the world's first graduate-school-level space engineering fellowship program conducted between the UN and a university - called the PNST program, IAC-17,E1.4.1, 68th International Astronautical Congress (IAC), Adelaide, Australia, 25-29 September 2017.
Applicants should:
Be nationals of developing countries or non-space-faring nations (countries without an established substantial capability to develop space technology/launch space objects);
Be duly nominated by their institutions;
Born on or after 2 April 1986;
Should have the academic and professional background required by the specific fellowship programme. Candidates seeking a Master degree are expected to have completed studies ending with a Bachelor Degree or equivalent (4 year university degree) in engineering-related subjects. Candidates seeking a Doctorate degree are expected to have completed studies ending with a Master Degree or equivalent (5 years university degree) in engineering-related subjects. Degrees in different technological fields can be considered by the Doctor Commission; and
Be able to make professional use of the experience gained in the fellowship programme. 

The Office for Outer Space Affairs is committed to achieving 50/50 gender balance in its programme and ensuring a balanced representation from different perspectives. Women are encouraged to apply.
Before submitting the completed application documents through the online upload-form, please first complete the electronic registration form, using the link below:
After registering for PNST you will receive a confirmation email with the web address where you will download the .doc-versions of the application forms.
The fully completed application form and other required documents except the referee report forms shall be submitted in electronic format (.doc or .pdf or.xls) at the Web address that is in the confirmation e-mail you will receive after registering above, by no later than 24 January 2021 (Sunday, 23:00 JST). 
Note: For file a name, do not use any non-English characters. Moreover, each character must be a one-byte type of character. As well, do not use spaces in your file names as the file server will not handle such data correctly. Use "_" (under bar) or "-" (hyphen) instead, e.g. "01_Tom_Smith_2019.12.24".
The Referee report forms should be sent by email to the Post-graduate study on Nano-Satellite Technologies (PNST) (pnst [at] space-kyutech.net) email address by the referees themselves by no later than 24 January 2021 (Sunday, 23:00 JST).
The timeline anticipated for the selection process of the Fellowship Programme is as follows:
From December 2020: Dissemination of information on the Fellowship Programme to potential candidates worldwide and application period.
24 January 2021(Sunday, 23:00 JST): Submission deadline - all application documents must be received by PNST except in exceptional cases.
February 2021: After the first round of selection based on the application documents, the remaining candidates will be notified regarding interviews about two weeks after the submission deadline.
February 2021: The first interview will be held in February 2021. The second interview (if necessary) will be held after the first interview. The interviews will be conducted remotely. All the applicants shall make themselves available for these days. The outcome of the remote interviews is the selection of six persons who will be offered PNST scholarships.
March 2021: After the interviews, all PNST applicants will be informed about the outcome of their applications to PNST. We will contact you. Please do not contact us.
February-June 2021: Discussion and finalization of research and study plan between the successful candidates and their supervisors.
Early March 2021: Selected candidates must send all the required documents including original certificates of graduation and original transcripts with explanation of transcripts to Kyutech using a reliable express mailing service. If any documents are written in any language other than English, official certified translations are also required. For the details of the required documents, please refer to the Checklist. 
July 2021: Official entrance exam to Kyutech. Formal admission and administration to obtain student visa.
August 2021: Travel arrangements for the candidates to Japan. Candidates need to find and book temporary accommodations in Japan by themselves.
September 2021: Arrival in Japan and finding accommodation. Official enrollment procedures at Kyutech.
October 2021: Beginning of the Fellowship Programme at Kyutech.
For any further questions regarding the PNST, please contact us.
Q: I am expected to graduate sometime in 2021. Am I still eligible to apply for the PNST? 
A: We accept applications as long as the applicant is expected to have the degree by September 2021. However, the applicant will need to submit a proof of the expected degree conferral date by the submission deadline; 24 January 2021 (23:00 JST), and if selected, will also have to submit the diploma received before the Fellowship Programme starts on 1 October 2021. 
Q: As the topic of my Doctoral or Master thesis, am I restricted to choose something related to nano-satellite? 
A: Space technology is made of many disciplines. You do not have to restrict yourself to choosing a topic too narrowly such as "nano-satellite guidance", "nano-satellite communications", etc. As long as the topic is space related, it has a possibility of being applied to nano-satellite. The important thing is that the thesis topic has suitable academic meaning as a Doctorate or Master thesis. Your research topic will be determined via matching between your research interest and the academic disciplines that Kyutech faculty members can offer. We will try to find a supervisor who is able to guide you in the area of your research interest.
Q: Where can I find more information about the research work I could conduct at Kyutech? 
A: Please visit  http://kyutech-cent.net/seic/seic_web.html which provides information about the research programmes at Kyutech, on the subjects of the Space Engineering International Course and on the faculty members and their recent publications. 
You can also find the titles of the Master thesis completed at the Laboratory of Spacecraft Environment Interaction Engineering over the past 10 years at  http://kyutech-laplace.net/Research.html. This information may be helpful for defining your own study proposal.
Q: After a survey of the different researchers at Kyutech I am interested in working with Dr. XXX. My question is if I can apply to the United Nations/Japan Long-term Fellowship Programme on Nano-Satellite Technologies even though I do not have any agreement with any researcher yet? 
A: Yes, of course you can apply! You do not need any pre-agreement with a Kyutech faculty before you apply. After the first round of down-selection, we will work on matching the remaining applicants to a professor at Kyutech. We will consider your interest in working with a particular professor if you pass this first round. Please first register for the PNST programme 2021 and then submit your application package.
Q: Who should sign the "Nomination Form"? 
A: The nomination form shall be signed by the head of the nominating organization. If you are a student right now, the person who signs the form has to be the Dean or higher ranking officer. If you are employed by a company, the person who signs the form has to be the president of your company. If you are neither a student nor employed, please ask the Dean or higher ranking office of the school you attended most recently.
Q: Is it sufficient for the "Referees Report Form" to be signed by the referee or is the seal of the referee's organization also required? 
A: The referee's signature is sufficient, however, for the "Nomination Form" the official seal of the nominating organization is required.
Q: Is it necessary to send the hardcopies of the application forms to PNST? 
A: At the first stage in the application process this is not necessary. You should just upload and submit the softcopies of required documents through the specified website. However, please retain all the original certificates; such as Certificate of graduation (Diplomas) or expectation of graduation, grade certificates (transcripts) and those official translations into English, and official score report of English test (such as TOIEC, TOEFL, etc.), and Nomination Form signed by the head of the nominating agency/institution. The short-listed candidates will be contacted and asked to send those original documents by express mails (such as DHL, FedEx) directly to Kyutech in the beginning of March.
Q: Can I send additional certificates to support my application? 
A: Yes, you can if you think that it will strengthen your application.
Q: I will apply for the Master's Program. Do I have to fill the STATEMENT OF PURPOSE in the PNST 2021_Application Form? 
A: Yes, please complete this field if you apply for Master's Program as well as if you apply for Doctoral Program.
Q: As an applicant do I need any help from my nominating agency during the application process? How is the nominating agency going to know about the progress in the selection process? 
A: It is up to the applicant and the nominating agency how they wish to relate to each other during the application process. For example, some successful applicants have retained employment with their respective nominating agency, retained the possibility to return to their previous employer, continued to receive support or had coordinated the topic of their theses work with their nominating agency. This is handled differently in each case and so it is up to the applicant and the nominating agency how you would like to handle this. It is also up to the applicant to keep the nominating agency informed about the progress in the application and selection process. 
Q: Do I need preparation for an examination to Kyutech? 
A: You need to register online for admission application in May, and then take an interview as an official entrance examination for Graduate School of Engineering, Kyutech in July. The details for registration will be provided by April from Kyutech. Doctoral Program candidates may be exempted from an interview, whereas Master's Program candidates must undergo an interview. However, as long as the candidates are selected as final PNST candidates, it is unlikely to fail the interview.
Q:  Is TOEFL or another English proficiency certification required? If so, what score is required and where should the exam results be sent? 
A: Basically, it is advised all the candidates should submit an official English test score; such as TOEIC, TOEFL, etc., and the score level should be CEFR (Common European Framework of Reference for Languages) B2 or higher. Please check what tests are approved by CEFR at Wikipedia: https://en.wikipedia.org/wiki/Common_European_Framework_of_Reference_for_Languages
The submission of the test score is not mandatory if your university (Bachelor for Master candidates, Master for Doctoral candidates) education was conducted entirely in English, and you can submit the evidence of that as a certificate signed by Dean or an official of higher rank.
Please refer to the checklist No.08 for the details about certification of English proficiency.
Please visit  http://kyutech-cent.net/seic/pdf/seic_faq.pdf  to obtain additional information regarding the Space Engineering International Course (SEIC), which successful candidates enroll in at Kyutech.
Links to Earlier Selection Rounds
·