Fellowship Programme for "Drop Tower Experiment Series" (DropTES)
Let's apply for the seventh cycle of Drop Tower Experiment Series!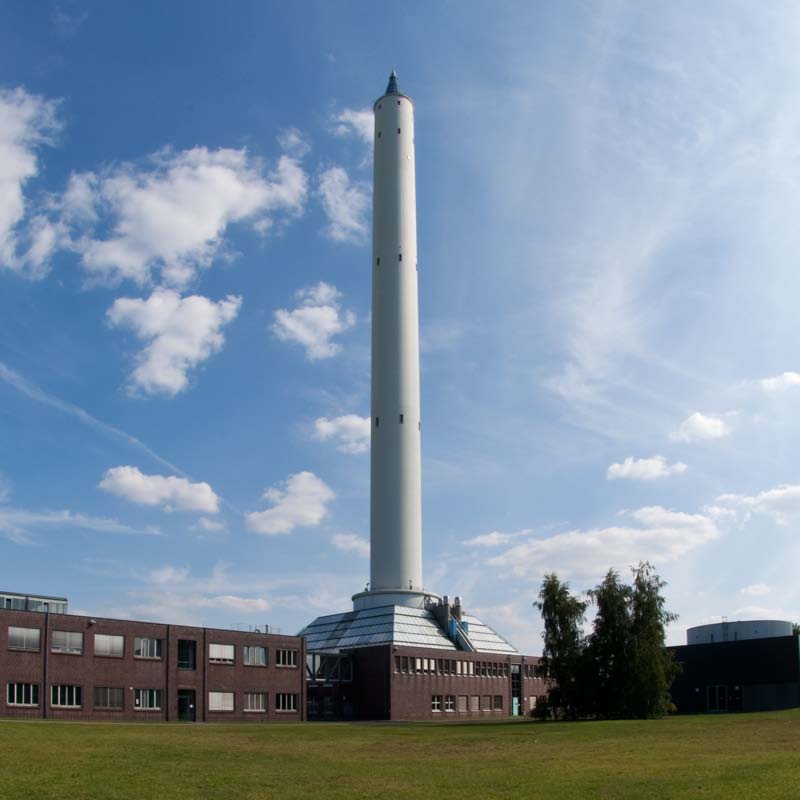 The Drop Tower Experiment Series is a fellowship programme of the United Nations Office for Outer Space Affairs (UNOOSA) in which students can learn and study microgravity science by performing experiments in a drop tower. The Bremen Drop Tower in Germany is a ground-based laboratory with a drop tube of a height of 146 meters, which can enable short microgravity experiments to be performed in various scientific fields, such as fluid physics, combustion, thermodynamics, material science and biotechnology.
In collaboration with the Center of Applied Space Technology and Microgravity (ZARM) and the German Aerospace Center (DLR), the fellowship programme offers a selected research team the opportunity to conduct its own microgravity experiments at the Bremen Drop Tower. The series of experiments will consist of four drops or catapult launches during which approximately 5 or 10 seconds of microgravity, respectively, are produced.
The deadline for applications submission is 31 January 2020, 23:59 CET  . 

The DropTES Fellowship Programme is open to research teams from entities that are located in Member States of the United Nations. Each team should consist of up to four Bachelor, Master and/or PhD students who must be endorsed by their academic supervisor (team leader).
It is further required that the proposed experiment be an integral part of the students' syllabuses, that is, part of a Bachelor thesis, a Master thesis, a PhD thesis, or another form of research project associated with the applicants' studies at their respective universities.
DropTES Details & Application Documents
The fully completed the above application form, properly endorsed by the applicant's institution, should be emailed to unoosa-droptes@un.org  both in PDF format (.pdf) containing the signature page, and in MS WORD (.doc), no later than   31 January 2020 at 23:59 CET  Please note that our email accounts only accept emails with a size limit of up to 10 MB.

UNOOSA will then proceed to evaluate each submission. At UNOOSA's sole discretion, additional information may be requested from applicants, if necessary, to assist in the evaluation of an application. Selected applicants will then be notified with the results of the selection process. All awards are final and made at the sole discretion of UNOOSA, not subject to challenge or review.
February  2020:
Selection of the winning research team by the Selection Board
ZARM expert contacts the selected research team (SRT) to initiate the experiment preparation once the team confirms its participation.
February- October 2020:
Experiment preparation in close cooperation with ZARM experts
Submission of the first Experiment Progress Report (EPR) by SRT at the beginning of May
Critical Design Review (CDR) with ZARM experts soon afterwards
Submission of the second EPR by SRT at the beginning of September
Transfer of the experiment and further required equipment to the Bremen Drop Tower in Germany in October or November depending on customs issues
November 2020:
One week of experiment integration at the Bremen Drop Tower prior to the series week
One week drop tower experiment series with four drops or catapult launches
December 2020 - January 2021:
Submission of ZARM's Feedback Report to the Selection Board
Submission of the Final Experiment Report (FER) by SRT
February 2021 - … :
Publications of results in journals, proceedings, and others by the research team if possible
Presentations of results at conferences, workshops, and others by the research team - if possible
Part of a Bachelor thesis, a Master thesis, a PhD thesis, or another form of research project associated with the drop tower experiment series
The selected research team will be offered financial support exclusively for travel purposes. This may include the provision of most economical economy class round-trip air tickets between the participants' international airport of departure and Bremen. En-route expenses or any changes made to the air tickets must be the responsibility of the participants.
In this context it has to be noted that UNOOSA will not bear the expenses for the preparation, transport and shipping as well as insurance of the experiment. Funding to cover these costs must be obtained separately, through private means or through national or international institutions. Applicants and their respective entities are therefore strongly encouraged to find additional sources of sponsorship.
The drops or catapult launches are sponsored by DLR Space Administration. The technical support provided by ZARM is included in those sponsored drops or catapult launches and therefore free of charge.
For the stay of the student team in Bremen, ZARM will provide free of charge its on-site apartment at the drop tower facility, which has two separate rooms with two beds in each room, a bathroom, and a common kitchen. The ZARM apartment can accommodate up to four people.
The academic supervisor (team leader) of the students will be accommodated in a nearby hotel, which shall be basically located in walking distance from the Bremen Drop Tower. Accommodation expenses for the stay of the academic supervisor will be covered by UNOOSA.
DropTES previous cycles
The results of the DropTES previous cycles can be seen here: first cycle, second cycle, third cycle, fourth cycle,  fifth cycle and sixth cycle.
Contact Information
For further information regarding the Fellowship Programme and applications, please contact through UNOOSA contact page;